Posts tagged
body
Recently on our Style Bust Fashionistas brought to our attention an all-natural bath and body line called Lalicious.

Lalicious is a line of high-end bath and body products which contains scrubs, body butters, oils and soaps in eight different scents like Sugar Kiss, Brown Sugar & Vanilla, Island Guava and others.
This line is available mostly online and in selected beauty spas. I was fortunate to find a local salon that carries that line and sampled the Sugar Scrub Souffle and the Body Butter since they had sold out of the rest of the products.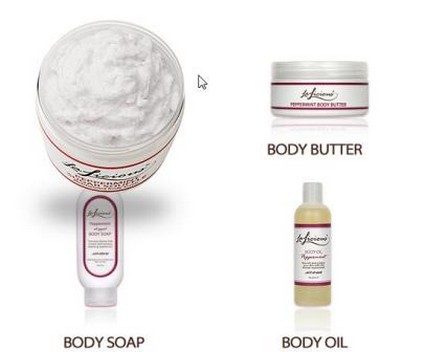 I tried the Tahitian Flower Body Butter and it was sensational, it feels very creamy but non-greasy. The scent was very light on my skin, nothing that would overwhelm and after a couple of hours I noticed the scent was gone, but the smooth feeling on my skin lasted a lot longer.

I also tried the Coconut Cream Sugar Souffle Scrub and from now on this is the only scrub I will use. The ingredients are all natural (cane sugar, coconut and other oils, honey); the first thing I noticed was that the scrub was dry and not full of oil. This
makes opening and closing the jar very easy since it doesn't get slippery. I love it.
Once you put it on, the sugar souffle transforms itself into a soft moisturizing scrub which leaves you feeling soft without the oily feeling with a very nice scent. I adore this product and want more!

Lalicious also offers soaps and body oils which I didn't have a chance to try yet, but will probably purchase the travel set so I can have the complete line and be able to take them with me when I travel and when I need to shower at the gym.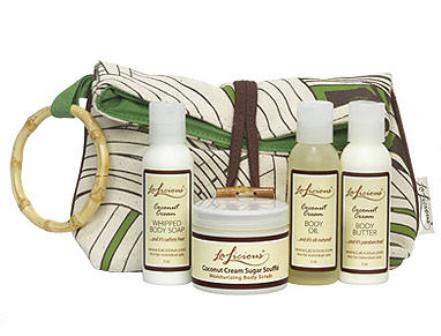 A special Thanks to Bollare for giving us this great tip and please keep them coming!
Never in my life I thought I would say this: I love a Sean John fragance. I know! I'm as shocked as you are, but hear me out. I received a small sample of Sean John Unforgivable Shimmer Body Lotion.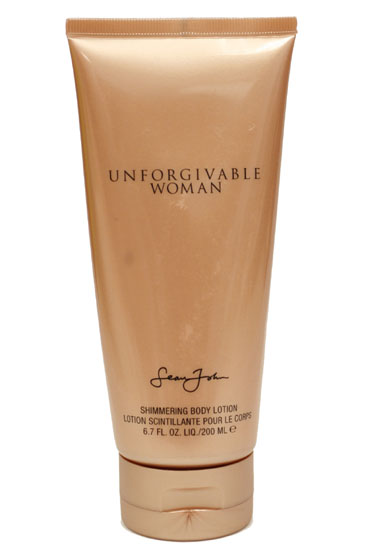 I took a shower and with my skin clear of any other product used the shimmering body lotion. The shimmer is very light as is the fragrance, eventually I went to sleep and next morning I could still smell the fragrance in a very pleasing way. It's not neccesarily a good moisturizing cream but it is great if you want a light fragrance on you that won't overwhelm especially if you are thinking of spending the night cuddling with your loved one.
I haven't tried the perfume yet, but next time I go through a department store I'll be sure to spray on some on my wrist. Of course, every perfume reacts differently depending on our body chemistry and while I loved the fragrance others might not like it. So be sure to try it before you purchase, you might be surprised as I was.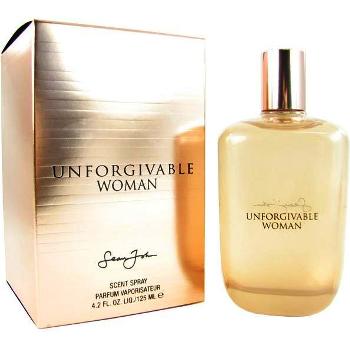 One of the best preventive weapons we have against premature aging and fine lines is moisturize the skin, as well as protect it from the sun. For the last couple of weeks I've been using a great moisturizer that comes in a plain looking package, but there is nothing plain about the product. It's called Hope in a Jar by Philosophy with the motto
philosophy: where there is hope there can be faith, where there is faith, miracles can occur.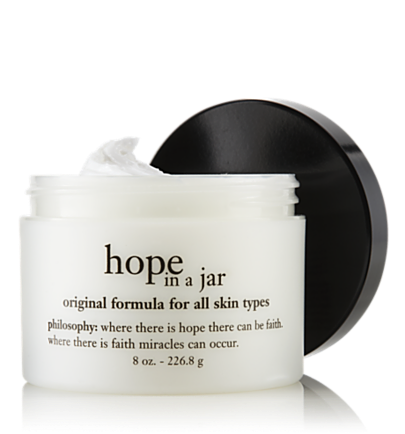 The moisturizer is very light weight that provides antioxidant protection, helps improve skin texture and tone, you barely feel it on your skin but at the same time the skin feels great. I am using the original formula for all skin types, but if you go to the Philosophy website, you can take skin care quiz which will suggest which products are best for you depending on your skin concerns.
And I really can't stress enough how important it is to moisturize with quality products, even if you spend less money on cosmetics. I'm closer to 40 than to 30 and I'm very proud on how my skin still looks youthful. I know I won't be confused with a 20 year old, but looking at the pictures from my late 20's and early 30's, I still look the same without the use of Botox or chemicals. Not that I'm against it, when the time comes, I'll be getting my injections for sure, but I can wait several years for that. But I digress.
Philosophy has created its own cult following with products such as Amazing Grace a perfurmed hot salt scrub, perfumed hand & body lotions, fragrances, shower gels and so much more. Makes pampering yourself an experience. Each product contains a different motto, like in the hot salt scrub which says:
philosophy: if you only had one day to live, how would you spend it? would you smile or frown? watch the sunrise or watch t.v.? take a walk or take a nap? say i love you or show you don't care? consider this…you aren't guaranteed tomorrow, so treasure this day as of it's not your last but the best day you will ever own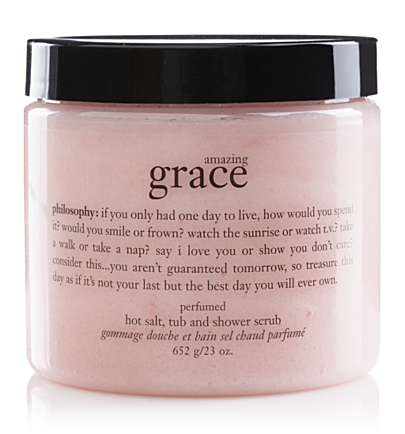 You can find Philosophy products at Sephora or directly at the Philosophy website. Hope in a Jar retails from $15.00 to $105.00 depending on size, a true investment in your skin.