Posts tagged
Holiday Wish List
With the Holiday's just around the corner, I figured that I should get a head start on my Holiday shopping.  While trying to decide what to get my family and friends this year, I got a little side-tracked and created a wish list of my own.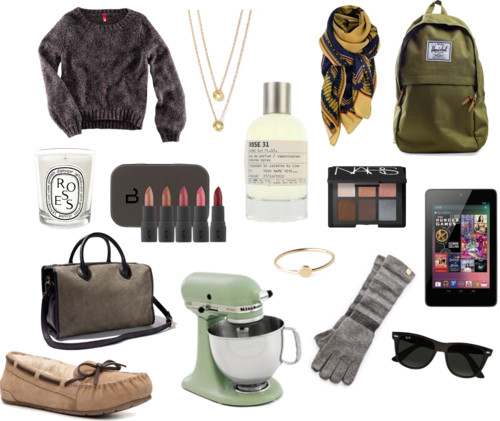 I make several wish lists throughout the year, I use my lists as a reference for when I'm out shopping – that way I have a clear idea of what I need/want.
This Holiday season my list includes: an affordable H&M sweater, a sturdy backpack, custom made scents, a KitchenAid mixer, cozy footwear for those chilly evenings, and dainty jewelry.
With a lot of Holiday shopping to do, you can bet that I'll visit some of my favorite online stores (for one-stop shopping), like; Amazon, Sephora and Etsy to find a little something for everyone.
What's on your Holiday wish list this season?
Who says you have to be in elementary school to make a Christmas List?  In my experience, I've found that shopping for adults is much harder than shopping for kids, and a list would've saved me time and energy.
With Christmas less than a month away, I figured I would make a list and share with you a few items that I have been lusting over this Holiday season – and have made it to the top of my Wish List.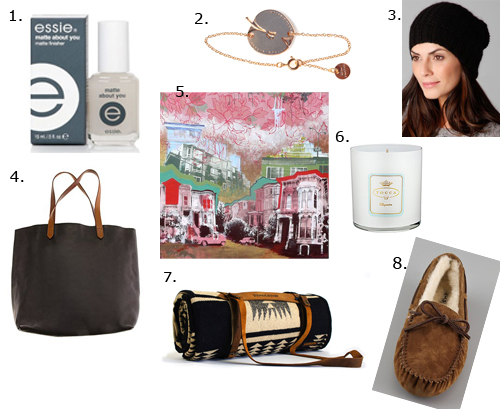 1. Essie Matte About You – this is the perfect top coat for mattifying any glossy nail colors
2. LouLou Bijoux bracelet – dainty and adorable – the apple is engraved in French (it says 'Bite Me!')
3. Rag & Bone beanie – perfect winter beanie – the pom pom adds a little character and a touch of femininity
4. Madewell Transport tote – this is a great everyday bag – it's not as casual as a canvas tote but serves the same purpose
5. Hilary Williams artwork – such a great gift – a piece of cool, local art
6. Tocca scented candles – love all of the scents by Tocca – perfect for every room in the house
7. Pendleton Portland Collection blanket – not only is this blanket cozy – it'll look great draped over a sofa
8. UGG moccasins – perfect for lounging around the house (or maybe even running to the store)
What's on your Wish List this Holiday season?