Posts tagged
Resort 2011
The OnePiece, the adult onesie. It is specifically referred to on the website as OnePiece: Jump in jumpsuit all-in-one onesie chilloutsuit. The OnePiece could be the love-child of last year's home-comfort hit, the snuggie and Juicy Couture's velour track suit.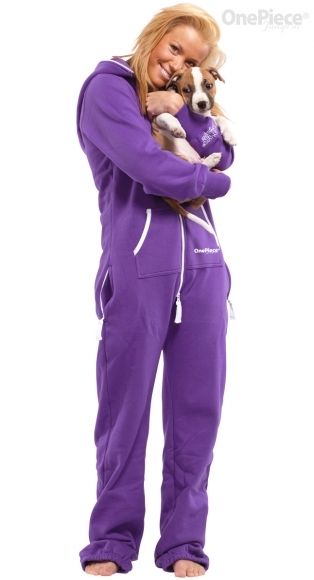 It is, an all-in-one tracksuit with a front zipper. It's made of comfy fleece cotton and zips from crotch up to forehead, for those invisible types. The website suggests it for doing homework, walking dogs, hangovers, and snowboarding. They cost £80-£110 depending on the design you choose. Jumpsuits are the in-thing at the moment. In fact, jumpsuits have been all over the catwalks. Chloe gave us wool styles for Autumn/Winter 2010, Zac Posen's Spring/Summer 2011 catwalk showed sheer patterned and silky versions and YSL's resort 2011 included a one-piece.
My only complaint is that it doesn't have the footsie pajama feet thing going. Other than that, I want one in every color for every facet of my life.
For Chris Benz' Resort 2011 Collection, Benz ditches his NYC stomping grounds to re-imagine life in '50s in Los Angeles. This collection was inspired by the Californian mid-century sculptor Sascha Brastoff, a very elegant, Los Anageles woman of the time. The designs consist of vintage inspired Hollywood glam dresses in ivory and black, tweed jackets, perfectly fit blazers, delicately draped organza tops, long flowing dresses, pleated pants, shorts ad a very great textile necklace.
The Collection in its entirety looks more thrown together than most Resort Collections – I have a hard time understanding the theme and at times I feel the inspiration doesn't show through in the outfits. The pieces on their own are nice, but nothing extraordinary has happened with this Resort Collection.
Missoni and M Missoni Resort 2010/2011 Collection's seem to be deeply inspired by the 60's with bright colors and youth shapes, but this is where the similarities between the two collections end. I hate that I'm not completely on board with what Angela Missoni is doing with the Missoni collection. I've loved, loved, loved everything Missoni and M Missoni has done for years (if not decades) with little or no criticism. I'm completely turned off by the looks shown above for the Missoni Resort line. The pieces show strong tribal references and shortened silhouettes, which sounds fine, but looks a bit too Palm Springs, Caribbean and Third World in its execution. Maybe my friends and acquaintances aren't versatile enough and therefore I'm sheltered, but I can't think of a single person who would think to purchase any of these pieces, let alone look comfortable and confident while wearing them.
Shown above are pieces from the M Missoni Resort 2010/2011 collection. I feel much more familiar and at home with these pieces. I love the rather basic and even plain silhouettes with their pop of unusually old-school-cool colors. And I must point out these adorable colored heels, they are great! I especially like that the ankle straps are gold. Overall, I think the collection seems much more sophisticated and versatile than the Missoni Resort collection. I hope I do find some people on the streets in these pieces. They should mix and match perfectly into other staple pieces we already have in our wardrobes. I hope you too are an M Missoni girl this time around!