Posts tagged
Book Bust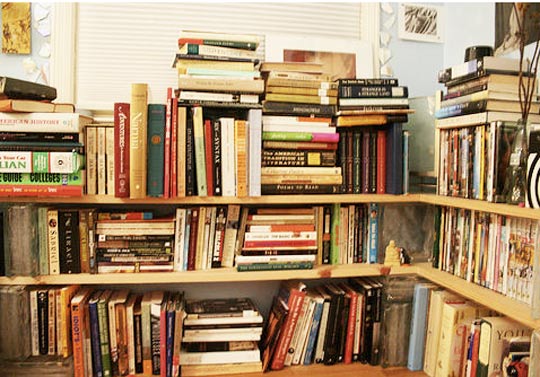 Now that 2011 is here I thought I'd share with you a list of 10 Books that are worthy reads for 2011.
Why Did I Ever, Mary Robison
If your life has taken downturns and is far from perfect you can empathize with Money Breton in Why Did I Ever. Money is refreshingly imperfect. Those of us who don't expect sweetness and happy endings in life will find many sections laugh-out-loud funny.
Naked Economics, Charles Wheelan
This book makes me love economics, it really simplifies everything (no charts, no graphs, just words).
Dear Everybody, Michael Kimball
The novel is about a man, Jonathan, who is writing letters to all of his family and friends, short, funny, beautiful, and wistful letters about his childhood, being a teenager, a young man, and married.
Eleanor Rigby, Douglas Coupland
The characters of Eleanor Rigby are lonely, isolated people, much like the song by The Beatles. It's a look at mortality and loneliness and is one of my favorite Douglas Coupland books.
Anthropology of an American Girl, Hilary Thayer Hamann
If J.D. Salinger and Jane Austin had a love child, it would likely have been Hilary Thayer Hamann. This is a coming-of-age book, a book about the transformative power of love in an era of deceit, and in many ways, it's a "retro" book.
The Adderall Diaries, Stephen Elliott
It's a memoir about his own struggles with drug addiction, mixes in his difficult childhood, his love life (which is racey – adult audience only) and a Bay Area murder and trial.  This is not a directory of drug rehab centers by any means, but more of a ADHD ride where one idea makes the writer think of another.
The Ask, Sam Lipsyte
This dark masterpiece takes the reader on an adventure through the life of several sad and complicated characters. It's oddly refreshing.
Eeeee Eee Eeee, Tao Lin
I'm reading this book because of it's title. I've also heard good things about Tao Lin which should help.
We Did Porn, Zak Smith
Zak Smith has a fascinating and engaging way of describing his experiences and surroundings. This book is a brilliantly crafted memoir full of honesty, social commentary, wit and elaborate detail.
Just Kids, Patti Smith
A wonderful memoir and story of love between Patti Smith and Robert Mapplethorpe.