Posts tagged
baking
If you've ever read my blog (seafieldfarm.ca) you've heard me rattle on and on about a farm I had the good fortune to grow up on and if you've read my blog recently you'll know that I was lucky enough to visit it this past weekend. I was excited to see the ocean, walk the fields of my youth and drink and eat (the farm's answer to professional sport) with my family. What I had forgotten was I was visiting during prime rhubarb season, a clear indication I'd been in the city too long.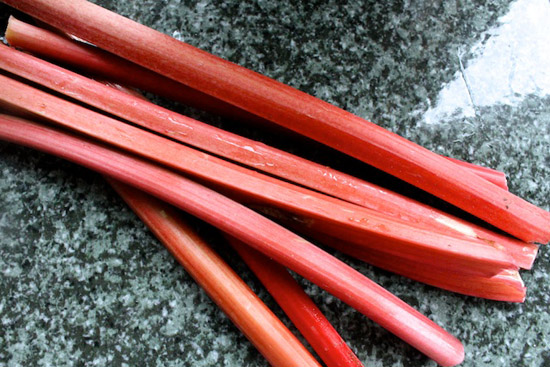 You cannot imagine my excitement when I took a quick look behind the farmhouse and saw rows and rows of dark green leaves the size and shape of elephant ears sheltering ruby red stalks.
I have a strong attachment to the farm's rhubarb patch. When I was kid my grandmother used to give us kids raw stalks of rhubarb with a teacup of sugar for dipping. I used to love the color the rhubarb dyed my hands (I was in the midst of an intense pink phase), the crunch it made as I bit into it and the thrill of being allowed literally a bowl of sugar. I have no idea if this treat is common amongst fellow cultivators of rhubarb, but if you've never tried it I suggest you give it a whirl. You won't be sorry… unless you don't like rhubarb, in which case I can't help you.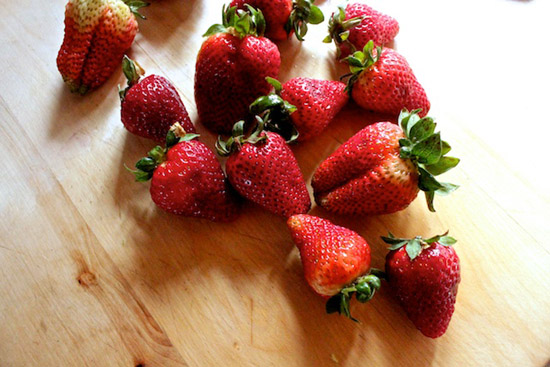 There is a reason strawberries and rhubarb were made for each other. Rhubarb can be quite tart and strawberries have a more pronounced sweet flavor that keeps you from puckering as you eat a slice of rhubarb pie. Plus they look so pretty cuddling up next to one another. I've heard pink and red clash but good food breaks all the rules.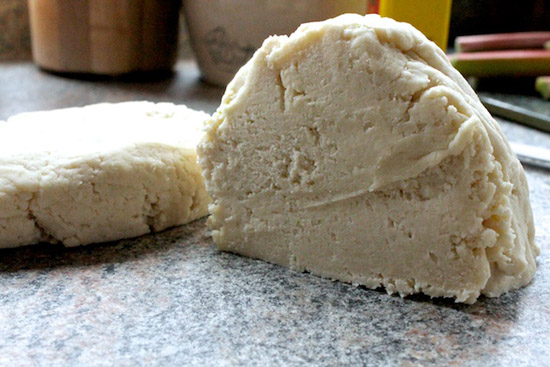 The pastry is all butter. I don't often mess around with shortening. I just don't like the taste. Butter is a little more difficult to work with than shortening but it improves the flavor and color of the finished pastry.
I've also made an odd addition to the pastry. One I'm sure your grandmother would never have thought to add… unless she had a drinking problem.
Great! Now I sound like I have a drinking problem… I don't!
You believe me right?
*hick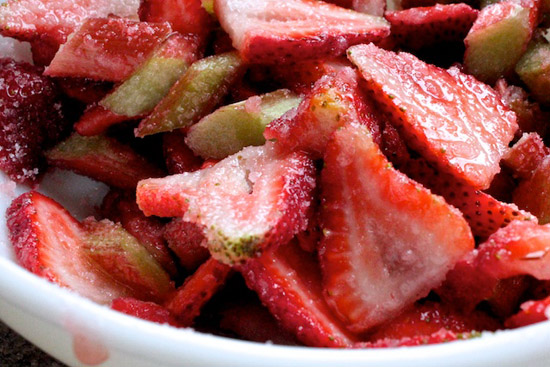 Vodka is the mysterious ingredient and no you can't taste it, but if you want to chase a slice of pie with a martini I won't tell anybody.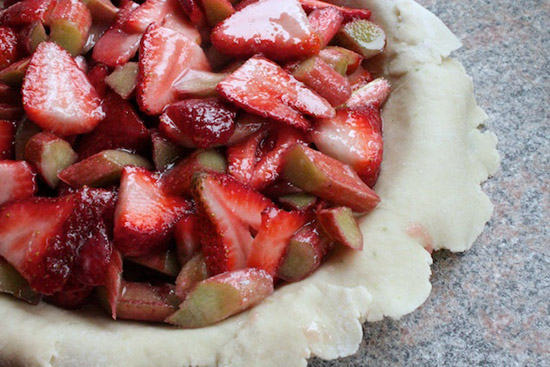 Liquid brings the pastry together and makes it workable, but add too much and you can be left with a chewy crust rather than a flakey one. Vodka evaporates faster than water meaning the liquid you added to form the pastry quickly bakes off in the oven leaving you with a dry flakey crust with no excess moisture.
Phew! Thank goodness.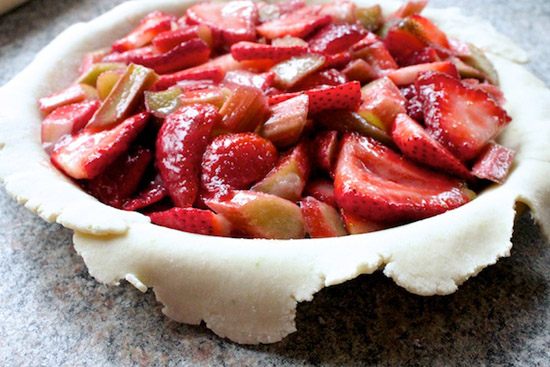 It important to remember fresh fruit often contains more moisture than it's frozen counterparts so, if you're using fresh up the amount of flour you use in the filling to thicken it. The pictured pie turned out a touch too watery. I normally can't get fresh rhubarb, because I have a nasty habit of craving it when it's not in season, so because it had been a while since I'd worked with fresh rhubarb I forgot and failedto follow my own advice. But you won't make the same mistake will you.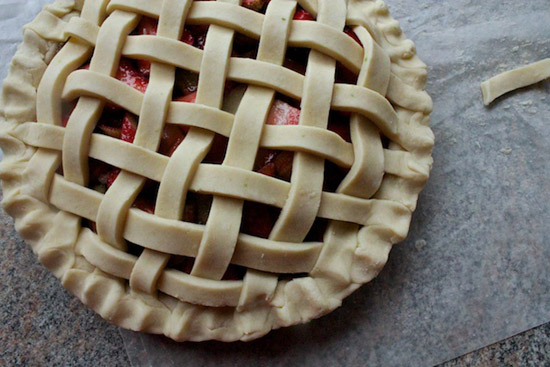 You may be wondering where the pictures of the finished product are… well, I got distracted and out numbered by my wild but adorable little cousins while the pie was baking. When I returned I found that my family was kind enough to remove the pie from the oven… and eat it!
The pie was gone before I could sneak a piece or a shot of my gorgeous pie. Well family, I hope you all burned the roof of your mouth, because I'm out a money shot!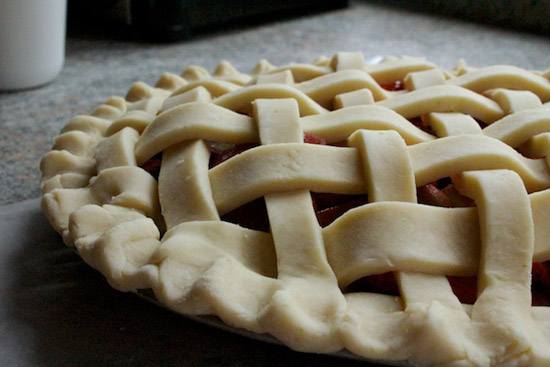 Anyway, follow the recipe and I can guarantee this pie will be beautiful inside and out. Indulge in this classic and take full advantage of rhubarb season, because there really are a million uses for this gorgeous ingredient, like rhubarb compote on pancakes…
*drool
You'll have to excuse me I have urgent business in my kitchen I must attend to.
All Butter Pastry:
2 ½ cup pastry flour (or all-purpose), sifted
1 cup unsalted butter, cut into pieces
1 tsp salt
¼ cup cold water
¼ cup cold vodka
Zest of one lime
Rhubarb and Strawberry Filling:
1 ½ cups fresh rhubarb, cut into one-inch chunks
1 cup fresh strawberries, hulled and sliced
¾ cups white sugar
4 tbsp all purpose flour (use 2tbsp for frozen fruit)
Juice of one lime
Garnish:
1 large egg, beaten
Coarse sugar for sprinkling
Directions:
Preheat oven to 425°
Sift together flour and salt in a food processer or large bowl.
Cut butter into the flour mixture using a food processor and a pastry cutter until it resembles coarse meal.
Add water and vodka and mix thoroughly until the mixture forms a ball.
Remove the dough from the bowl and cut in half.
Flatten each half into discs, wrap and refrigerate for half an hour.
While the dough is chilling, place filling ingredients in a large bowl and stir to combine. Set aside.
When ready to roll out place discs on the counter and let rest for fifteen minutes.
Place one disc on a well-flour counter top or marble slab.
Using a well-floured rolling pin roll the dough out from the middle out avoiding the edges.
Transfer to a 9-inch pie plate.
Pour filling into pastry shell and dot with additional butter.
Roll out the second disc and cut into strips (if making a lattice top as pictured).
Weave the strips of pastry over the filling can trim and crimp the edges of the pastry.
Brush with egg and sprinkle with sugar.
Fit tin foil around the edges of the crust and place in the preheated oven.
Bake for 35 minutes. Remove the tin foil and back for an additional fifteen minutes or until golden brown and bubbly.
Recently my boyfriend brought home some molasses and I wasn't sure what he (or myself) was going to do with it.  Turns out, molasses is great for baking and the recipes are fairly simple to follow.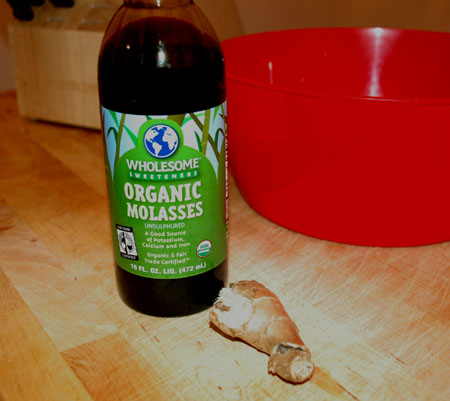 Ginger molasses cupcakes with almond whip cream frosting
Ingredients
3 cups all-purpose flour
2 teaspoons baking soda
1 teaspoon salt
8 ounces (2 sticks) unsalted butter, melted
1 1/2 cups sugar
2/3 cup molasses
2 large eggs
1/3 cup hot water
1/2 cup fresh ginger, peeled and minced + 1 tablespoon ground ginger
Ground ginger, for garnish
*Whip cream recipe below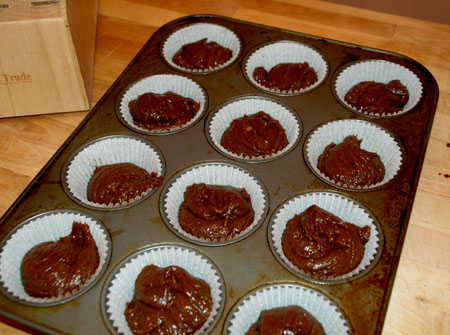 Directions
Preheat oven to 350 degrees. Line standard muffin tins with paper liners. Whisk dry ingredients in a large bowl. Cream butter and sugar with a mixer until light and fluffy. Add eggs, 1 at a time, beating after each addition.
Reduce speed to low. Mix any remaining wet ingredients in a bowl. Add dry ingredients to butter mixture in 3 additions, alternating with wet ingredients and ending with dry. Scrape sides of bowl. Divide batter among muffin cups, filling each 2/3 full.
Bake cupcakes until testers inserted into centers come out clean, about 20 minutes. Let cool in tins on wire racks.
Ingredients
2-3 cups heavy whipping cream
2 tablespoons almond extract
Directions
Whip the cream on a medium speed, whipped to soft peaks
Slowly stir in almond extract
Wait about 30 minutes or until cupcakes are cool to frost them with the whip cream.
*Plain whip cream works just fine, I just wanted to add a little more sweetness to my cupcakes.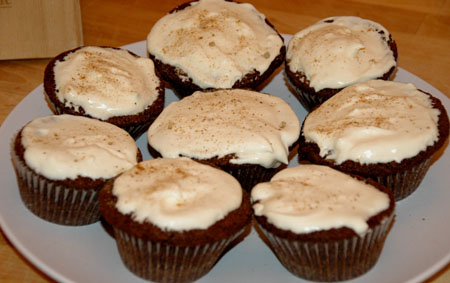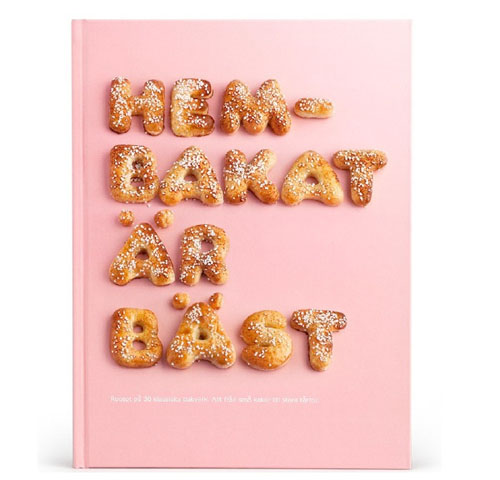 IKEA has released a cookbook titled "Hembakat är Bäst" (translation: Homemade is Best). IKEA collaborated with photographer Carl Kleiner to produce this book, which hands down, has some of the best styling and photography for a cookbook. Hembakat är Bäst is filled with 30 recipes for baked goodies broken down by ingredient.
It's pretty difficult for me to guess what baked good the ingredients photographed below belong to – but I find the images artists, so I thought I'd share them with you here!
There are some images of items you'll recognize in the cookbook too. Now that I think about it, this cookbook could make a really great gift idea!