Posts tagged
dinner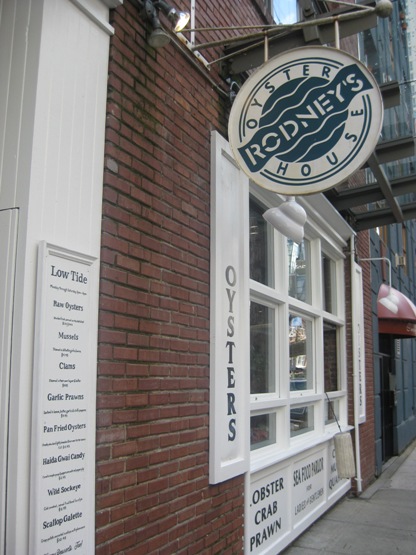 Heading back to trendy Yaletown for lunch we stopped for the dinning experience that I was looking forward to the most. My love for oysters and of fresh raw seafood eateries in general is unexplainable. It is hands down my favorite stuff to eat! So when in a coastal city known for its local sea food products I could not wait to get my hands on some sea critters freshly caught that morning. Rodney's Oyster House was everything an oyster house should be. Small, loud, very casual, with few menu options, and live crustaceans swimming around in a tank. We sat at the bar where ten different types of oysters (mostly local) sat artistically on ice with their labeled names given by discovering fishermen throughout time. I ordered two of each, when I realized my cousin is not an oyster fan, but like any San Franciscan with a true love for oysters, my stomach is always more than well prepared for such an occasion. Here in San Francisco we have mignonette, in Vancouver they have a plethora of vinaigrettes for their oysters that where both delicious and exciting, but left me completely overwhelmed. Like any good server should do, the guys here made sure I tried their oysters the Canadian way. Though I was really impressed by the variety of flavors form so many topping options, I'd rather stick to the way we like to eat our oysters here- a little mignonette with lemon and a dab of Tabasco. To be honest the best way to eat an oyster for true love rather than for dinning opulence is to just eat the little suckers plain. I paired my oysters along with a challenge to our server to make me the perfect Caesar, and OMG!!! This guy, this restaurant, KNOWS how to make one of these National drinks. As I saw him make it in a rushed and insensitive manner, I already knew this was the one I would never forget. After I got my cousin to help me out with the little guys, we ended our meal with a giant bowl of steamed mussels swimming harmoniously as they should be; in a potent smelling white wine, garlic, butter broth that was to die for! Curious about just trying the chowder and their belief it was the best, I could not deny the tasting they offered. I must say (being somewhat of a chowder connoisseur) I have had way better and more east coast authentic chowder here in San Francisco. Nonetheless this place was everything I hoped for. San Francisco oyster lovers, when in Vancouver make sure to check this place out!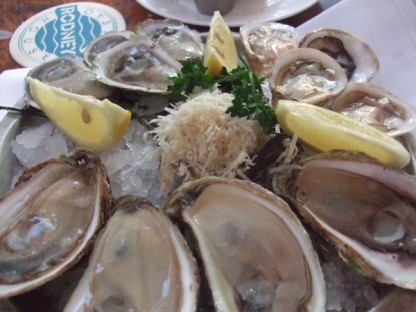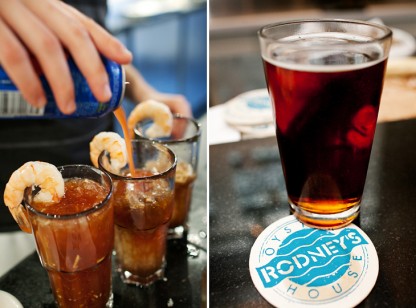 Image sources: Victoria's Food Secrets, Sake + Cheese, Eat Drink + Be Merry.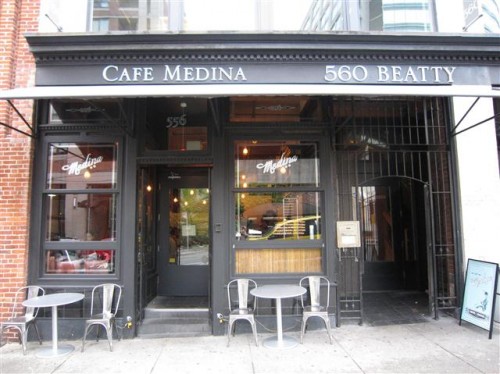 As many locals agree when in Vancouver one must stop by Café Medina for breakfast. Located in between Yaletown and Gastown this restaurant offers a unique and artistic breakfast and lunch menu. Being a sucker of the simple and naturally heavy breakfast foods we all know, I was very hesitant to sit at a more upscale bistro type Café to have my first meal of the day. I was told over and over again however, to not miss out on the waffles at this place. I don't even really care for waffles!! But my cousin, a fancy breakfast bistro type got me there and my careless attitude towards the fluffy patterned suckers changed forever. Made by the order through a window facing the street we ordered a few with four of their most popular toping preferences: dark chocolate, mixed berry compote, raspberry caramel, and of course- maple syrup. To be perfectly honest the waffle itself was so exquisite with vanilla flavors steaming from it that I barely even touched the toppings. Whether you are a waffle lover or not, when in Vancouver, go to Café Medina and try one of these mini delightful goodies. To balance out the limit of my sweet tooth I tried one of their many beautifully plated sausages (The Andoullie) with just the right kick of spice. We ended the meal with 2 of their famous lavender lattes, not my favorite personally, but that's just because I rarely even put milk in my coffee. If you like milk in your coffee, and want to try something eccentric this is definitely a good pick!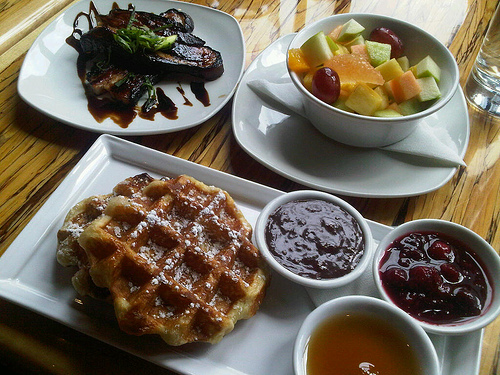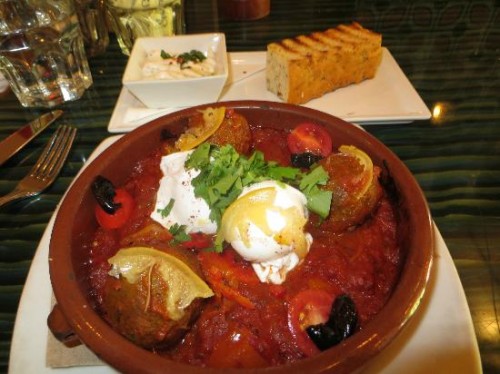 image source: Follow Me Foodie, Vancity Allie, and Bottomless Tummy. 
It's that time again, when your calendars start filling up with Holiday functions.  Whatever your Holiday plans entail, this time of year can be hectic…planning dinner parties, scheduling vacation time, or most importantly, finding something to wear to all of your Holiday events.
I'm here to possibly help lower your stress level.  I've created looks appropriate for all of the events you have scheduled for this Holiday season!
The Office Party
Boat necklines are very elegant and flattering on most body types.  Pair a LBD with nude heels and a jacket with a pop of color for a polished and sophisticated look.  You might not wear this at the office, but you want your outfit to portray you and your professionalism (even if you you are dancing with the guy from accounting)!
Affordable options: Pleated v-neck dress, Ruffle jacket
Dinner with your boyfriend (and his parents)
This dress is festive, cute and the coverage of the dress is perfect for dinner with your future in-laws!  Pair a short dress with opaque tights for a charming, yet modern look (his parents will be sure to adore you)!
Affordable options: Chiffon dress, Open-toe platform heels
Dinner with friends
This is a trendy outfit that your friends will appreciate!  Pair a cable-knit sweater with a knee length skirt for that "lady-like" look that we love for Fall.  Add a motorcycle jacket and ankle boots for a little edge.
Affordable options: Wrap skirt, Ribbed collar jacket
Cocktail Party
Nothing screams the Holiday's like a little bit of glitz and glam.  If you're attending a "cocktail party," this is the perfect look.  Pair a metallic dress with platform ankle boots for a flirty and fun look!
Affordable options: Metallic lace dress, Zipper clutch