Posts tagged
independent designers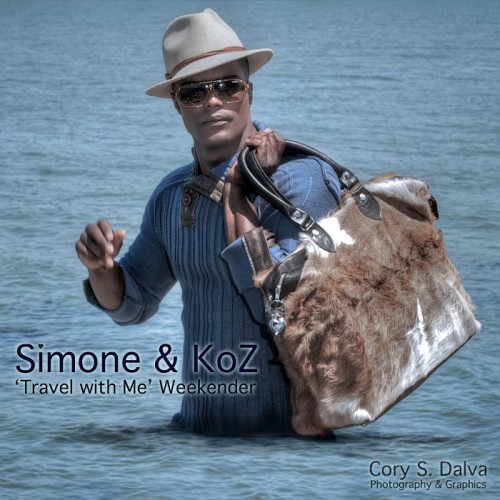 I had the privilege to spend a little time with Janette Simone of Simone & KoZ Handbags the other week. I learned a lot about Janette and her unique leather products. For starters, the mission behind her high quality, handcrafted designs is to provide women the opportunity to be noticed wearing a unique one-of-kind bag.  Here is some additional insight I gathered!
StyleBust: How did the concept of Simone & KoZ come about?
Janette Simone: This is a bit of 'an out of the ordinary' story. I was unfulfilled working in a conventional role in Australia so I took a quantum leap by immigrating to California where I 'gave birth' to my company Simone & KoZ. Being a lover of all things animal hide, I collaborated with a designer and created a collection of handbags that push the boundaries combining the traditional with the outrageous while remaining beautiful and timeless. I recognized a niche where I could provide women with a completely unique, animal hide handbag that assures individuality and exclusivity.
SB: Is your background in the fashion/accessories industry?
JS: Other than being an avid fashion consumer with an eye for detail and style, I do not have direct lineage to the fashion industry. This is a newly created part of my life journey which allows me the pleasure of offering women another way to express their wild side by accessorizing with animal hide handbags. My handbags are a conversation piece; they are also functional and designed to accommodate a woman's lifestyle needs.
SB: Describe your current collection.
JS: Handbags are not just a fashion statement anymore. So, my collection is designed to be large, sturdy and functional to support the many needs of today's lifestyles. Currently, my focus is on three sizes of goat-hair/leather bags. The 'My Everything' handbag – aptly named because it's a basic part of my everyday toting essentials that easily carries my iPad and so much more. I love the 'Overnight Desires' cabin bag because it's an easy, throw-everything-in bag for those quick (romantic?) weekend getaways and the 'Travel With Me' bag is a superb weekender that is large enough to pack everything you could possible need. I can't forget the 'Me & You' that is just a fun, cross-body, non-gender specific satchel with room for you iPad that appeals to everyone.
SB: Where can we buy your bags?
JS: I'm selling my bags at Wonderland SF, Shoes for the Stars in LA, and at simoneandkoz.com.
SB: How is your line different than the average handbag lines out there?
JS: Each bag is unique; no two are alike and no one will have the same bag as you. You will have to endure a lot of 'oohs' and 'ahhs' as people will literally cross the street to compliment you and ask all sorts of questions about your handbag. That will be your price to pay for having a keen eye for fashion and choosing a completely unique handbag that inspires you. I would have to say that if you don't want or like attention, it's probably best not to buy my bags! (big smile)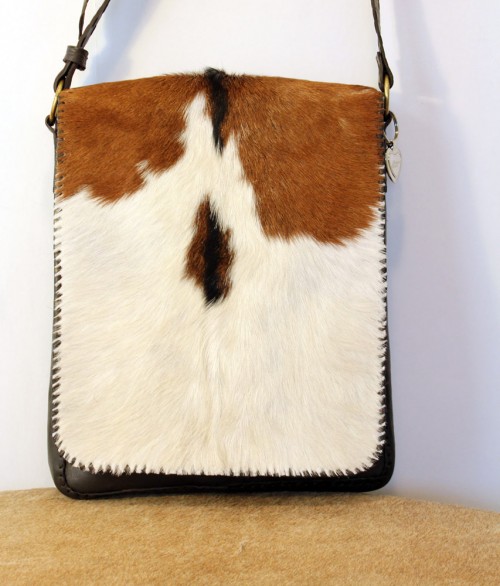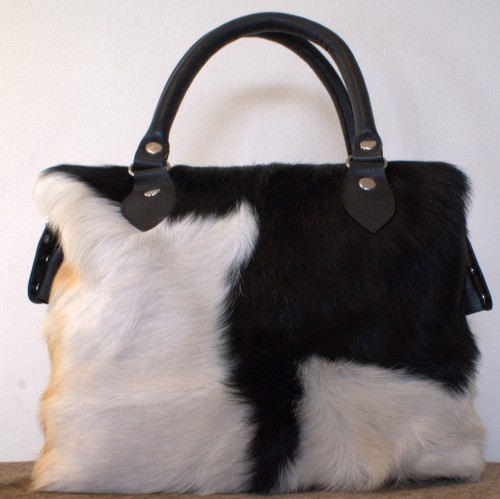 SB: Are you manufacturing your products locally?
JS: No, my products are manufactured off shore. I care about the off shore local artisans who manufacture my products and donate a portion of my profits back to their community.
SB: What types of women respond to your line well?
JS: Most women consider their handbags to be a staple wardrobe item. Statistics show that on average, women bought 3 handbags per year and own 7 or more handbags. My exquisite handbags appeal to a broad demographic of women (and men). Specifically, those who like to be noticed wearing trendy, exclusive, fashionable accessories that are on the 'edge' and that aren't necessarily available to the masses. My customers expect to purchase an eye-catching, conversation-starting handbag and demand a well made, quality product. Women want a handbag that supports and assures their uniqueness and exclusivity. My customers have an appreciation for animal hide accessories and want to make an investment in their personal style with a unique handbag. They won't compromise when it comes to being noticed and standing out in a crowd. It has been said that we may like clothes, makeup and love shoes, but we are addicted to HANDBAGS!
SB: What are the challenging parts of starting your own line?
JS: Probably the biggest challenge has been the shift from thinking like an employee to thinking like a business owner and realizing that all decisions lay with me – right or wrong! Effectively managing my time and resources means I have to strategize constantly depending upon which 'hat' I'm wearing at any given moment. It's challenging to keep everything in balance and to find time to complete tasks while working on growing my business. Fortunately, I am persistent and happy with my chosen profession. I don't see failure as an option.
SB:  Who are the handbag designers you admire, and what about those designers/designs stand out to you?
JS: Alexander Wang, Prada, Fendi, Burberry, Balenciaga I could go on…..they all exude luxury, fashion and style. How often do you see something like a special edition Swarovski encrusted crystal handbag designed by Chanel? It's the exciting, outrageous designs and intricate details these designers incorporate into their products that get my attention.
SB: What is you favorite trend of the season?
JS: I like the strappy wedges – you know, the sky-high ones that boost you above the crowd (for height challenged women like me, they're perfect). Combine the shoes with a print pencil skirt or maxi dress layered with bangles and of course all the great new takes on animal print to create a bold and edgy look. Round it all off with your leather motorcycle jacket….in white! Ultimately, fashion is an individual thing and whatever makes you feel good.
SB: When you're not working, what are you doing?
JS: Hmm, it feels like I'm always enjoyably working one way or another. I often say that my vocation is my vacation. When I actually do put time aside, I regenerate by being near the ocean.
Social networking site, Inspirare.com, launched in April with the goal to help emerging designers get exposure and launch their design careers.
How it works: Fashion designers create an online portfolio on Inspirare.com where they upload fashion sketches and images of the finished designs. Inspirare users browse through portfolios and vote on their favorite designs. The most popular designs that are approved by the Inspirare team will be produced and sold exclusively on Inspirare.com. Inspirare provides 100% funding and share generous royalty with designers.
Fashion designers are encouraged to continuously add new designs to their portfolios as Inspirare will produce the best items from portfolios regularly and sell them at the Inspirare Shop (scheduled to launch in September).
The site launched with a fashion design competition, which closed in May. There were over 150 submissions from 23 countries for the competition.
After intense deliberation, the Inspirare team and their judging panel (which I was part of!!) agreed on the winning design. Fashion designer Alejandra de Coss of Puebla, Mexico won the competition for her design, Miss Marble. Inspirare.com will produce the dress and sell it exclusively on their eCommerce store. Designer Alejandra de Coss will receive 20% royalty on the sales.
Inspirare's fashion director, Kate Blank, has this to say about the Miss Marble dress,
You can see this dress is a nod to several trends such as peplums, cutouts and sheer paneling; but it's exploring them in a unique way. The dress offers both an interesting print and a two tone colorway allowing us to see it's versatility and well placed design lines. I also really love the presentation of her fashion illustration. All the images in this design submission are visually interesting and serve a purpose. I think the Miss Marble dress will be a piece that many different women will lust after as it's a perfect party or event dress.
I fell in love with Texas based Crowned Bird's Pipit Pencil Shirt. I think the Pipit Pencil Skirt print is so original, yet so commercial. The cut will be flattering for many body types and the length is just right. As soon as this skirt is worn on the streets it's going to be a quick hit!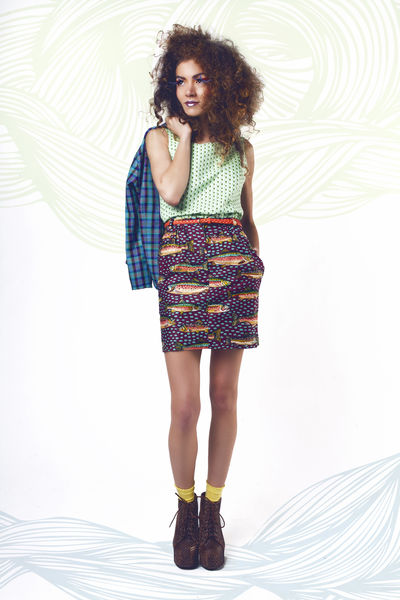 Pipit Pencil Skirt by Crowned Bird scored high enough by the judges that it may be considered for production by Inspirare.com. I really hope it gets produced because I'm totally going to buy it!
Inspirare Judge, Lorraine Sander's, of SF Indie Fashion, Digital Style Digest, and San Francisco Chronicle column Style Btyes favored Anca Miron's design RDVB. Lorraine says,
The multi-wear possibilities of this design immediately got my attention. While it's an urbane look that would most likely appeal to a customer who already loves to take risks with fashion, there's a great deal of versatility in the cut and shape of the garments. They could fit in as easily on the streets of Stockholm as they could in New York or Tokyo. The creativity in the construction, versatility and global appeal made this look stand out.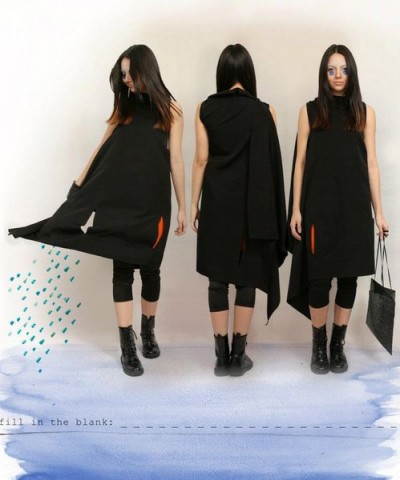 RDVB by Anca Miron scored high enough by the judges that it may be considered for production by Inspirare.com.
Academy of Art University Style Coordinator and Inspirare Judge, Flore Morton, is a fan of Denis Predescu's Pink Architecture dress. Flore says,
The dress is urban but sophisticated. The construction is very architectural, and is perfectly executed. The choice of fabrics and colors is modern, and gives a new spin on color blocking. The garment proposes a true personal vision from the designer. The photo shoot communicates a good taste level and a simplicity that balances well the dressy garment. I regret that the 2D drawing is not as strong as the dress itself.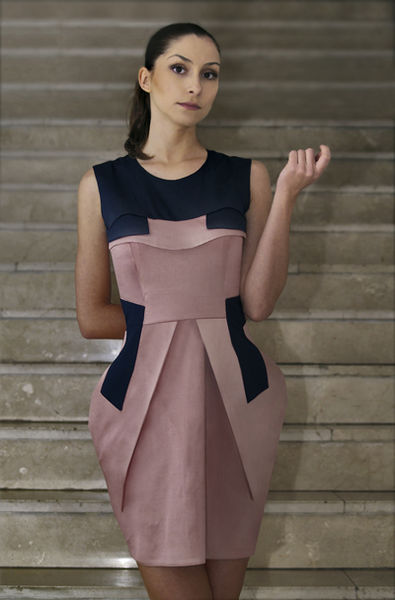 Pink Architecture by Denis Predescu scored high enough by the judges that it may be considered for production by Inspirare.com.
All designs submitted to Inspirare.com can be viewed within the Discover section of the site.
I was happy to learn about a new fashion ecommerce site called Sense Of Fashion.This site seems like the perfect place for Style Bust Readers to buy and sell clothing.
Here's why:
Unlike any other ecommerce website, Sense of Fashion's international marketplace combines online shopping and social media. Not only can shoppers sort through everything from apparel, shoes and jewelry to one-of-a-kind vintage pieces, but they can also discover emerging talent and then interact with their favorite designers through direct messaging as well as commenting on their favorite items. The store offers a wide selection of women's apparel and accessories. They also sell a smaller collection of menswear.
Here are some of the pieces I've cherry picked from the site for you to take a look at!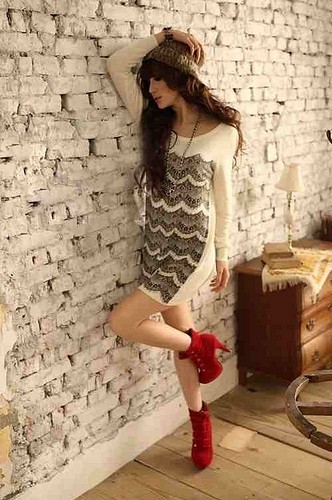 Cotton Dress $70 by Andre Nicole
Andre Nicole Boutique is a United Kingdom based brand selling the trendiest fashion and accessories for women. This brand doesn't disclose too much information, but they seem to be fairly popular as they have their own webstore as well as an Us Trendy store.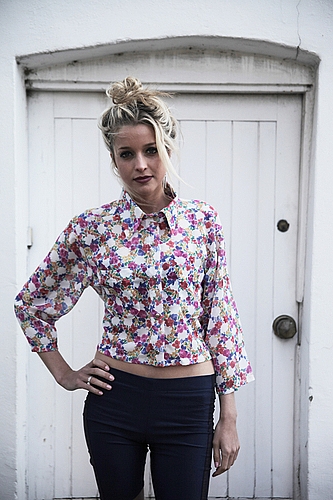 Cropped White Shirt $75 by billandmar
Bill†Mar is a fashion line based in United Kingdom. Bill+Mar is a unique and sexy label that is made to have fun with. It uses contrasting fabrics and prints to make texture and unique shapes. Its slightly grungy edge makes it stand out and gives the shopper something exclusive. Their model is also adorable.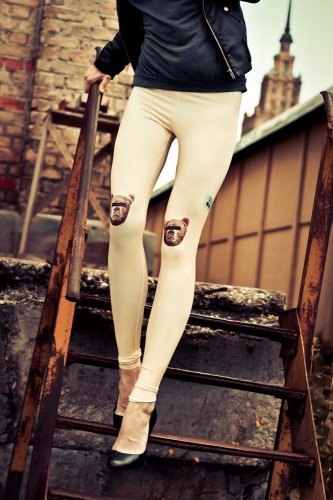 Anonymous Cream Bear Leggings $65 by QooQoo
QooQoo is a Latvian fashion brand led by a graphic designer. Using only self-made fabrics for all produced garments, QooQoo earned genuine recognition for its courageous colorful graphic design. The brand manufactures and distributes limited edition ready to wear clothing for women and men. QooQoo designer Alyona Bauska won national Style and Fashion awards in 2010. QooQoo has opened Riga Fashion Week with Spring/Summer 2011 and Autumn/Winter 2011/12 season collections.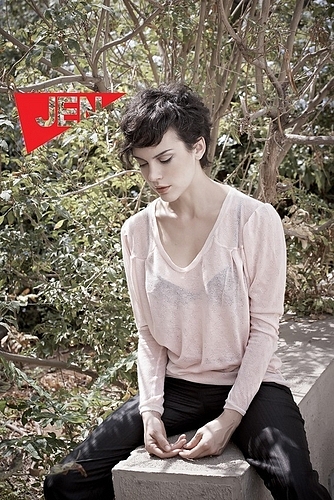 Delicate Pink Sweater $65 by JenFashion
JenFashion is designed by Israel designer Jenia Krol. Jenia began designing clothing eight years ago. She started the brand "JEN" during her first year at Shenkar College of Engineering and Design.  Jenia is working with 10 Israeli boutiques, and 2 American. Her inspirations come from Russian Futurism and Suprematism of 20's. The City of Tel-Aviv also provides her with a lot of inspiration: Bauhaus architecture beat of the city, people, colors, sea, traffic, etc.