Posts tagged
jeans
I spent the last week of 2011 cleaning out my closet for the new year. I sold a couple of pieces to Crossroads, then donated the rest.  I'm a sucker for denim, so I usually hold on to many pairs of jeans, even if I only wear them 4 times a year. But this year, I decided to grow up, and move on from these older jeans to make room for newer styles, and better quality basics.
For 2012, I've decided to keep only the basic denim silhouettes and styles already in my closet. This includes a couple solid pairs of skinnies and many flare legged pants (I love this look). I'm also going to stop buying cheap, trendy jeans that I'm not totally in love with and start saving up for more practical, well-fitting designer jeans. With all the January sales going on now, it's actually a sensible time to buy new replacement jeans; ones I will look forward to wearing non-stop.
Below is a short "Upgrade Your Denim For 2012 Guide."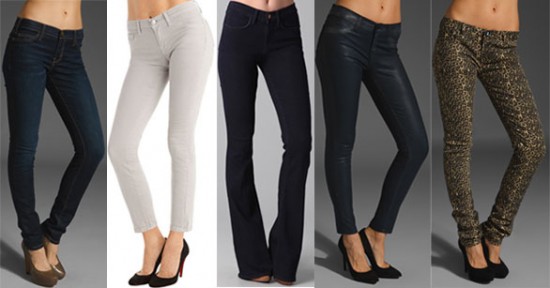 From left to right:
Upgrade your everyday skinny denim to the perfect shade of dark denim for 2012.
Switch from colored jeans, and khaki color jeans to the hot 2012 color "smokey quartz."
Find the prefect high-waisted flare leg pants. These will dress up any otherwise casual looking outfit and make it perfect for evening.
Swap out your black jeans for blacked waxed denim for a bit of pizzazz.
Many sources, including MTV Fora indicate that printed pants are here to stay. Upgrade your printed denim to a print that is timeless, like animal print.