Posts tagged
Jimmy Iovine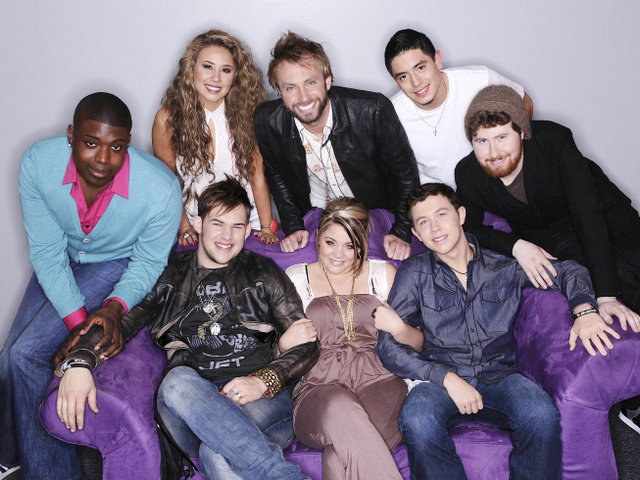 Hello friends! Excuse my late post on American Idol, I was traveling yesterday and once I saw the results show I needed a little time to pout about Paul going home.
Seems like many people have a love hate relationship with this show. I know I certainly do. I'm not going to make empty threats and say that I won't watch it because my guy went home. Besides, that would only end up disappointing my readers! All I know is that if voting was solely up to me Pia would have made it to top 3 and Paul would have made it to top 5.
Anyway, my plan of attack for next week's blog is going to be "American Idol: Crap the judges should of said." Because I'm just so tired of them not critiquing anyone. The most entertaining part of the show is Jimmy Iovine & Will.I.Am. And all the buzz this week was how the contestants bucked the system, stood up for what they believed in, chose the songs they wanted to sing… which obviously translates to the viewers at home that they are seasoned artists, smarter than management, are so creative and yada yada yada. I mean truly I didn't feel like even writing a blog Wednesday night, as I usually do, because the show frustrated me so much.
It's not the weekly outcome that irritates me. The votes come in, someone has to go home and really winning the competition doesn't mean much. The show is good exposure whether you make it to the end or not.
This is what gets me. I think many people watch the show and think they are getting some sort of inside look into the industry. And while I certainly enjoy the clips from the studio, it's not even close to showing the process of making an album. And once the contestants are locked into a record deal, sure, they will be able to express their opinion but ultimately the label is going to be calling the shots. The people with the money have control and the artist is going to do what they say. It's a constant struggle in this industry as an artist trying to keep your identity and create the music you believe in as opposed to the music that the label thinks will sell. It's hard for even the seasoned talent on labels to get their voices heard when it comes to making a record. I don't for a second believe that the winner of this glorified karaoke contest is going to have a say in the studio. And it's not like I'm the biggest Jimmy Iovine fan in the world but I just find what they are doing to be a little disrespectful. They are making a big deal out of the contestants choosing their own songs, the judges praise them, and it's like "good job, you showed Jimmy who's boss." News flash: Jimmy Iovine is a successful man in the industry and has been around a lot longer than you, he knows what's up.
Anyway thats my rant. Well actually I have a few other complaints, such as, the hate mail getting sent to Stefano. I don't get how that makes someone feel better, it's like bullying. Stefano doesn't control the votes, I feel bad for him. I actually don't like when anyone has ignorant things to say about any of the contestants. I like that people have opinions. Music is so personal though, and all the contestants are talented in their own way. I'm not asking anyone to love Paul. But I don't understand the people that think he is a complete joke. I guess they are probably the same people that say Bob Dylan or Rod Stewart can't sing. I like unique voices. And I think I have finally decided who I want to take the "top prize." Haley Reinhart. Did you catch her performance with Casey last night? So major! Check it out below.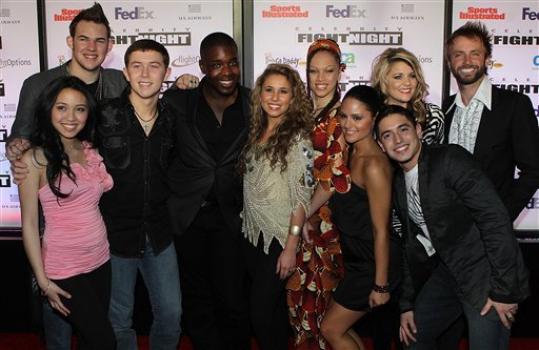 Mo-town week on Idol is always enjoyable for me and this year it wasn't any different.  In fact everyone performed so well that it could have been one of the most entertaining shows in Idol history.  It was the exact kind of revival I needed to get back into the show. (editors note: as requested each week I will start linking the performances to the article, all you need to do is click on the contestants name when listed in the post – but I don't always talk about all the performances so you can always catch them on the American Idol website).
Outside of the changing of judges this year on Idol they have added so much to the show by giving the viewers an inside look into the performers studio time.  I think this adds more credibility to the show. It makes it less karaoke every week and more music business centered. I love that they show this side of the artistry.  Last night there was a feature on Mo-town that really moved me.  It was a short feature but fairly in depth when it came to capturing the vision of Mo-town and the entire movement.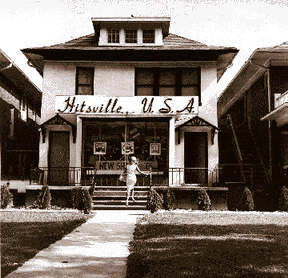 So where to begin… Jacob Lusk.  I was ready for him to go home last week, he's not one of my favorites by a long shot.  But OMG his performance last night, brilliant.  So captivating and perfect.  He was coached well, thank God this year for Jimmy Iovine.  This is a performance that you need to watch here on YouTube or on the American Idol website.  It was truly a magical moment.
Haley's voice suits Mo-town music well, so I was looking forward to her performance this week.  I thought the chances of her choosing a bad song were pretty low.  I think she delivered, however, I don't feel like she is choosing songs that showcase her unique voice.  I love her sound and I can see the potential in her, I just wish someone would push her to make better song choices.
Paul brought out his guitar this week, something I have been really looking forward to.  I'm biased so I enjoyed it.  I just feel like Paul is representing everything I love about the music industry, like I finally have someone on my team on the show.  But as I try to watch the show and get in the mindset of the average viewer it worries me.  Like Jimmy said prior to Paul's performance he thought he could have a moment, I'm not so sure he had that "moment."  But he will, I have confidence that he will have a really special performance, sitting with his guitar and playing a quiet, acoustic song.  The judges are asking him to give them more of his tender voice.  I can envision a special Paul performance acoustically.  So we shall see.
I wasn't disappointed this week by any of the performers.  I thought Pia and Stefano were kind of boring but they sang their butts off.   Scotty did a phenomenal job keeping his classic sound during Mo-town week, proving that he is a true artist.  It was nice to see Thia change it up, it was like I was watching a completely different girl.  She's just so young.  It's great that Idol has opened up the competition to 15 year olds but they just look out of place when they are competing against the more seasoned artists.  I wish someone would coach her for what to say in front of the judges.  I feel bad that she's constantly slipping up and talking herself in circles.
I don't know who is going home tonight.  It's a tough call.  I will be surprised however if they use the wild card and what happens when they do.  Typically the week after the wild card they send two people home the following week.  In this case there are 11 contestants left so if they use the wild card it will drop to 9 contestants next week.  They take the top 10 on tour, so I don't know how they would figure that out if they use the wild card this week.  Overall I thought last night was fabulous but it seems every week there's such an array of differing opinions.  I like to hear your thoughts, join Style Bust on facebook to join in on the discussion!