Posts tagged
eyeshadow
Spring 2012 is shaping up to be a great season for makeup, especially if you like wearing pastel colored eyeshadow. Every makeup line from Maybeline to Dior, and Stila to Estee Lauder have Springtime appropriate pastel colors in their eyeshadow palettes this season. I'll admit I already own many pastel and jewel tone eyeshadow, and it's true I feel compelled to wear them during the Spring. This season is no different, we're seeing a lot of updated "Easter egg" colors, tons of greens, and also some pretty nude eyeshadow colors. Many of this seasons purple, yellow and blue eyeshadow shades aren't appropriate for the business casual workplace, but they are perfect for nights, weekends and making your standard tee shirt and jeans outfit POP!
Most drugstore and designer palette's this season offer colors in medium pigmentation that are translucent, but not sheer. The shades have satiny, and in some cases glittery finishes instead of the matte finish we've scene in previous seasons. Of course, all eyeshadow will look it's best if you start with a base layers of eyeshadow primer. I just bought my first eyeshadow primer a few months ago, and it's done wonders for me (no more creases). Here is Ellie's review of some of the most popular eyeshadow primers on the market.
Here are some of my favorite Spring 2012 eyeshadow colors: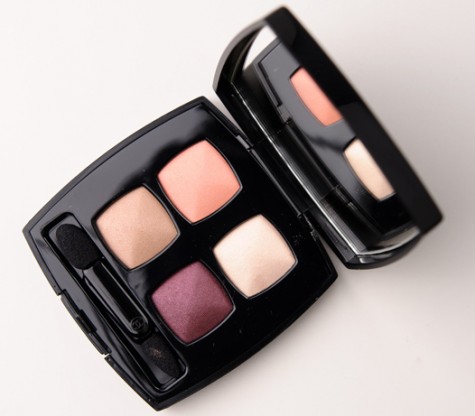 Chanel Eclosion Quadra Eyeshadow ($58) has a relatively safe warm-neutral pallet for Spring 2012. Each color has a slightly different variation of shimmer.  The colors are very similar to Chanel's Dunes Quadra and Spices Quadra. If you already own either of these Chanel palletes, you probably don't need to drop more money on this new Springtime palette.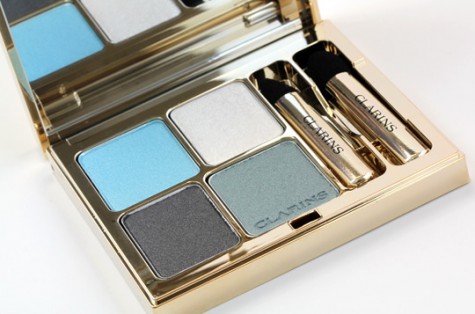 Clarins Blue Sky Eye Quartet Mineral Palette ($40) is part of the Clarins Spring 2012 palette Colour Breeze. Blue sky has three blue shades, two of which are actually work appropriate because they are 'washes of blue', and a white shade. The blues contain flecks of glitter in silver and blue jewel tones to help enhance the shade. Be aware that without a primer, you will lose some of the eyeshadow flecks to your face.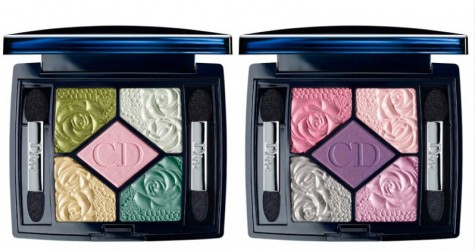 Dior 5 Couleurs Garden Edition Couture Colour Eyeshadow Palettes ($59) apply with a fantastic creamy texture. The look is more frosty iridescent than shimmery, which is a finish unique to Dior this season. Best part, the color really lasts all day. With Dior it is true, you get what you pay for!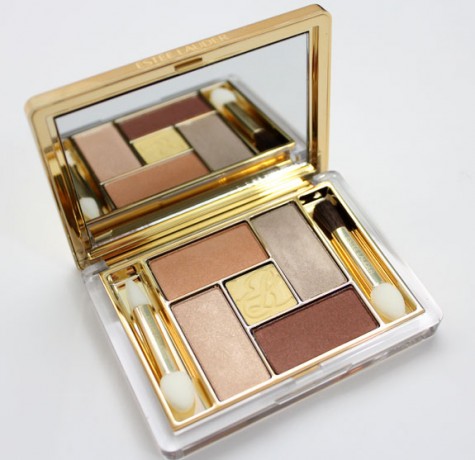 Estee Lauder Pure Color Topaz Mosaic Five Color Eyeshadow Palette ($45) was inspired by the warm, sun-bleached tones of the desert. The neutral bronze and shimmery copper tones make this palette another safe, and somewhat affordable bet for the season.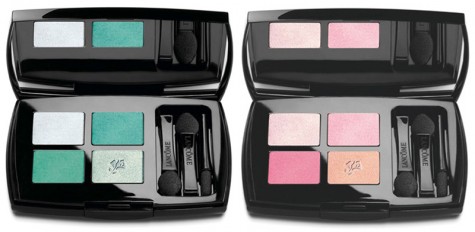 Lancome Roseraie Des Delices Eyeshadow Palettes ($49) are filled with soft pastel shades that evoke lush gardens, white lace sundresses and indulgent Ladurée macaroons. The two high-end palettes for the season come in candy-coloured quartettes: one with feminine roses and peaches, the other in refreshing greens like seafoam and turquoise.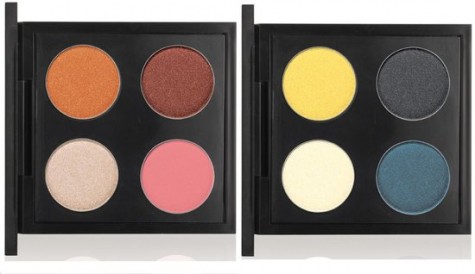 MAC Cook Eyeshadow Palettes ($38) are available for a limited time at select MAC counters. Pictured: Call Me Bubbles and Colour Added. The Spring 2012 MAC Cook shades offer a similar assortment of colors as the other major players this season. Call Me Bubbles is very desert chic, with nice sheen. While Colour Added offers the alternative, risky colors of the season. Makeup wearers either love, or hate MAC; so it is importnat MAC offers every "HOT" shade each season to continue to speak to the customers that love them…and make sure they don't go running off to a competitor.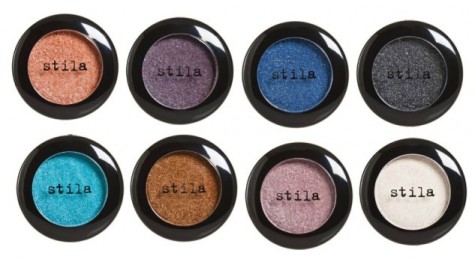 Stila Jewel Eyeshadows ($20) come in eight new shimmery colors for Spring 2012. These colors work against the whole pastel palette, and bring in more of s New Mexico, or Mjoave feel. The colors are all appropicately named after stones. I bet you can easily pick out "Opal" and "Amethyst".
If you're on the market for some pastel and jewel tone eyeshadows, Spring 2012 is the perfect season for you. Find you favorite shades, and stock up. We all know how quickly color trends change!