Posts tagged
photography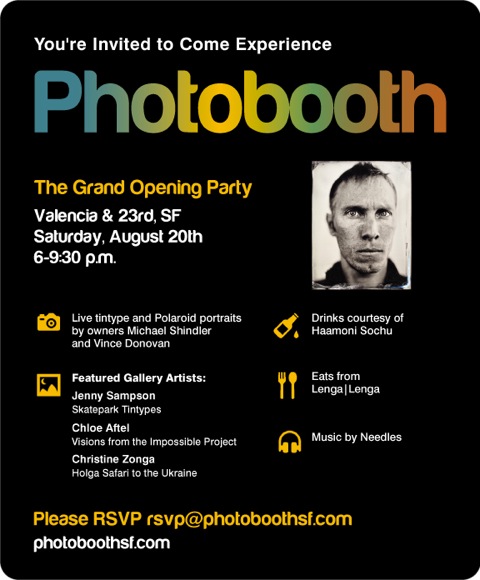 Vince Donovan and Michael Shindler created the concept for Photobooth – a fun alternative photography experience opening on Valencia (next to Beretta) – one day over margaritas in the Mission.
Both local photographers specialize in alternative processes. Michael is a tintype artist who has been at the center of making the Civil War-era photographic process modern again. Vince has been a fixture on the Mission scene for years shooting portraits on the street and in bars with an old Polaroid Land camera.
Photobooth joins the Valencia arts scene with a unique studio where anyone can walk in and get a one-of-a-kind portrait created instantly using alternative techniques. The Photobooth gallery will feature local alternative photographers and will host openings and events with special guest photographers. Think of Photobooth as a bar, with music, art, and creative conversation– only instead of pouring stiff drinks Vince and Michael are serving intoxicating photographs.
True photo geeks at heart, Michael and Vince really want Photobooth to be an alternative photographers playground – fully stocked with retro camera gear, refurbished Polaroid cameras, the full Lomography line of alternative camera gear and the new Polaroid film from The Impossible Project.