Posts tagged
soap
A new store opened in San Diego's Fashion Valley Mall, by chance I walked in with a friend and was immediately hooked on the products and the concept. LUSH began in England in the late '70s, through many trials, tribulations and name changes they've continued with the dream which now translates to over 650 stores and several factories in over 40 countries.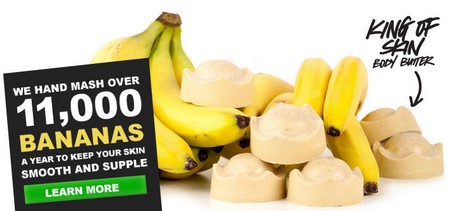 So what is LUSH? It's the ultimate beauty delicatessen. It's such a fun shop, you can't help but want to touch and smell everything. The products are either fruity or a natural combination of ingredients and scents; the attendants are very friendly and fun. We got a demonstration of a Bath Bomb, which is guaranteed to make you want to use your tub for a bath! Once the Bath Bomb dissolves, not only does it give an awesome scent, but it leaves the water feeling creamy and your skin feels moisturized, very luxurious. We also got a demonstration of a bubble bar and got to smell lots of lotions, I wanted to buy everything!
The prices are very affordable, with products as low as $5 and above. Even if you're on a budget, you'll be able to afford one or two things.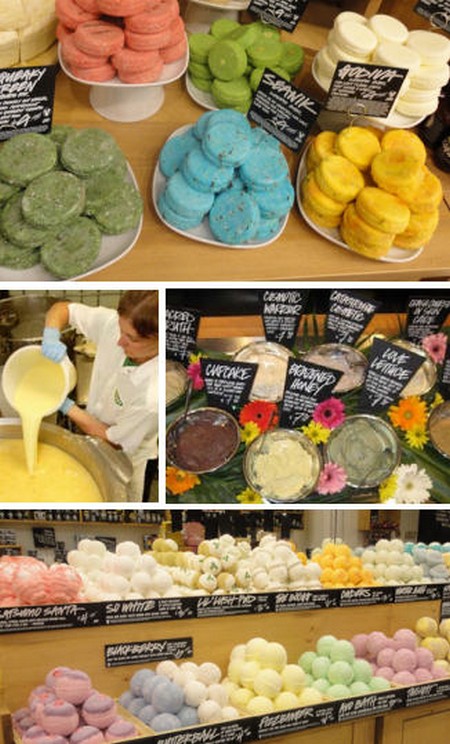 The more I learned about the company the more I respect it. LUSH leads the cosmetics industry in combating social and environmental issues by running public awareness campaigns in their shops and funding direct actions groups such as Sea Sheperd Conservation Society and Rainforest Action Network.
Other facts about LUSH, their products are:
100% Not tested on animals
100% Vegetarian
81% Vegan
69% Preservative-free
44% Unpackaged

Ethical, quality and affordable products…what's not to love? For a store near you, check on Store Locator.
Okay, we all know how pricey cosmetic brushes can be so why be neglectful with their care – stay on point with these suggestions!
First off, realize no two brush cleaners are created the same. There are a myraid of choices, from: soap, cleansers, sprays, baby shampoo's, some resort to Dawn Dish-washing anti bacterial liquid – yup!, you read that correct. Now in previous post, I've recommended how often you should clean your handy dandy tools but today's post is to target what I deem "most effective cleanser's".
Below, a short list of tried/true ways I've banished dirt, build-up, bacteria, and makeup residue.
SOAP – For $15 bucks, you will simply lust this bar after only trying it once. Becca (Aussie brand) designed this goodness, it nourished my bristles like no other. I know what you're thinking – "you can just bounty up some hotel soaps and call it a day" – WRONG, this is different! Those other soaps can't claim they lengthen the lifespam of your brushes like Becca can. When you open up this baby, your nose will know too…I inhaled a beautiful scent, later learning its made of plant-based oils which double as a cleanser & conditioner, who doesn't want 2 in 1.
For a visual:
Where to buy: Becca Cosmetics, Henri Bendel or locally here in SF: Ron Pernell Studio.
(If you choose the later, you'll walk out with more than just a bar of soap honey! – but a couple of laughs & compliments from Ron himself).
Other ways to wash & preserve your dirty brushes but aren't as luxurat(ing) include:
Brush Spray – Nowadays everybody and they mama' makes a brush cleanser. I've used M.A.C., Japonesque, Sephora, the list is endless. Pros: you can travel with spray but no real purification takes place outside our bathrooms. Cons: many of them leave a residue or funny oily slip to the bristles, anyways.
So no thanks, onto the next…
Shampoo – From day one, old school Makeup colleagues of mine suggested using Johnson & Johnson Baby shampoo – its gentle, no tears -ha! It works but like I said earlier…I found the Pro Bar (made by Becca) far better, it really IS bar-none!
Bottom line, your brushes deserve something gentle yet effective and whether you pick a spray, shampoo or soap bar (like me). You must wash, rinse bristle thoroughly, squeeze excess water and reshape.
Speaking of reshape…boy! do I have a product to plug for this, until next time beauties…