Posts tagged
body lotion
A new store opened in San Diego's Fashion Valley Mall, by chance I walked in with a friend and was immediately hooked on the products and the concept. LUSH began in England in the late '70s, through many trials, tribulations and name changes they've continued with the dream which now translates to over 650 stores and several factories in over 40 countries.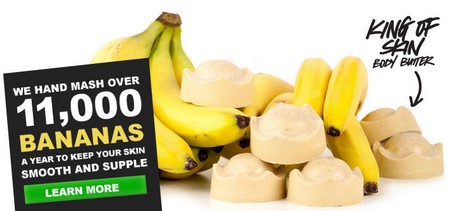 So what is LUSH? It's the ultimate beauty delicatessen. It's such a fun shop, you can't help but want to touch and smell everything. The products are either fruity or a natural combination of ingredients and scents; the attendants are very friendly and fun. We got a demonstration of a Bath Bomb, which is guaranteed to make you want to use your tub for a bath! Once the Bath Bomb dissolves, not only does it give an awesome scent, but it leaves the water feeling creamy and your skin feels moisturized, very luxurious. We also got a demonstration of a bubble bar and got to smell lots of lotions, I wanted to buy everything!
The prices are very affordable, with products as low as $5 and above. Even if you're on a budget, you'll be able to afford one or two things.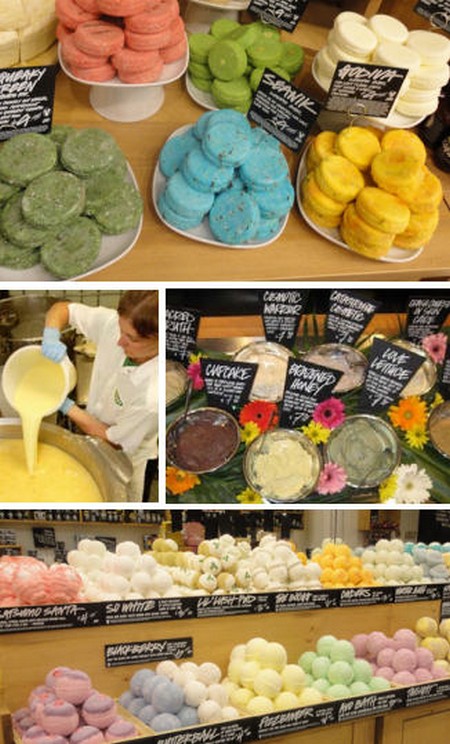 The more I learned about the company the more I respect it. LUSH leads the cosmetics industry in combating social and environmental issues by running public awareness campaigns in their shops and funding direct actions groups such as Sea Sheperd Conservation Society and Rainforest Action Network.
Other facts about LUSH, their products are:
100% Not tested on animals
100% Vegetarian
81% Vegan
69% Preservative-free
44% Unpackaged

Ethical, quality and affordable products…what's not to love? For a store near you, check on Store Locator.
Recently on our Style Bust Fashionistas brought to our attention an all-natural bath and body line called Lalicious.

Lalicious is a line of high-end bath and body products which contains scrubs, body butters, oils and soaps in eight different scents like Sugar Kiss, Brown Sugar & Vanilla, Island Guava and others.
This line is available mostly online and in selected beauty spas. I was fortunate to find a local salon that carries that line and sampled the Sugar Scrub Souffle and the Body Butter since they had sold out of the rest of the products.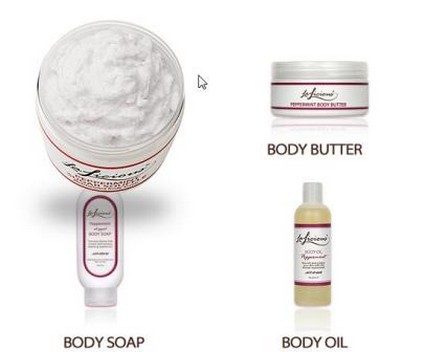 I tried the Tahitian Flower Body Butter and it was sensational, it feels very creamy but non-greasy. The scent was very light on my skin, nothing that would overwhelm and after a couple of hours I noticed the scent was gone, but the smooth feeling on my skin lasted a lot longer.

I also tried the Coconut Cream Sugar Souffle Scrub and from now on this is the only scrub I will use. The ingredients are all natural (cane sugar, coconut and other oils, honey); the first thing I noticed was that the scrub was dry and not full of oil. This
makes opening and closing the jar very easy since it doesn't get slippery. I love it.
Once you put it on, the sugar souffle transforms itself into a soft moisturizing scrub which leaves you feeling soft without the oily feeling with a very nice scent. I adore this product and want more!

Lalicious also offers soaps and body oils which I didn't have a chance to try yet, but will probably purchase the travel set so I can have the complete line and be able to take them with me when I travel and when I need to shower at the gym.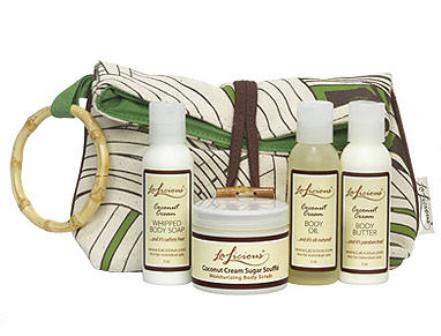 A special Thanks to Bollare for giving us this great tip and please keep them coming!
Never in my life I thought I would say this: I love a Sean John fragance. I know! I'm as shocked as you are, but hear me out. I received a small sample of Sean John Unforgivable Shimmer Body Lotion.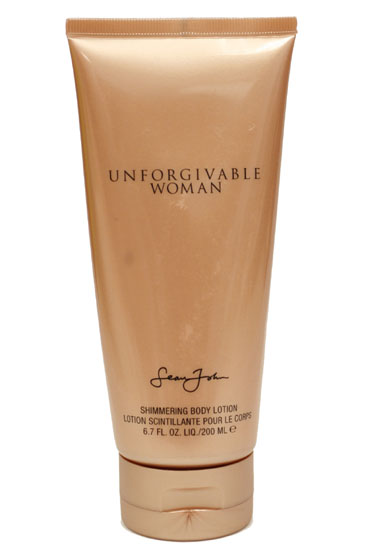 I took a shower and with my skin clear of any other product used the shimmering body lotion. The shimmer is very light as is the fragrance, eventually I went to sleep and next morning I could still smell the fragrance in a very pleasing way. It's not neccesarily a good moisturizing cream but it is great if you want a light fragrance on you that won't overwhelm especially if you are thinking of spending the night cuddling with your loved one.
I haven't tried the perfume yet, but next time I go through a department store I'll be sure to spray on some on my wrist. Of course, every perfume reacts differently depending on our body chemistry and while I loved the fragrance others might not like it. So be sure to try it before you purchase, you might be surprised as I was.