Posts tagged
bag
This season as I shop online for family, friends, and my fiance, I keep getting distracted by cute items I want for myself – and I want them now! It doesn't help that so many retailers have going-out-of-business type sales these days. Who can resist a good sale? In November, I had a new package of clothing, accessories, or makeup arrive nearly every third day; my savings stash is shrinking quickly and Tyler is getting a little annoyed with my impulsiveness.
I thought I'd share some of my favorite picks for who I call the "Urban Dweller Chick". An Urban Dweller chick is someone who doesn't play by the rules and enjoys mixing and matching her wardrobe and lifestyle. She probably strives to be a Jane of all trades.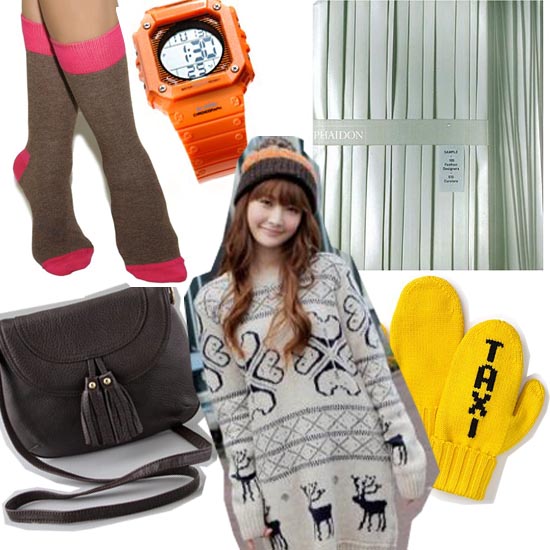 Items pictured above:
Throughout the season I'll bring you the best items I think of for the ladies, and maybe even some men if I get around to it. Hopefully some of my picks help you, and ladies, don't forget to send this url to your boyfriends and hubbies who have a hard time picking out presents for you!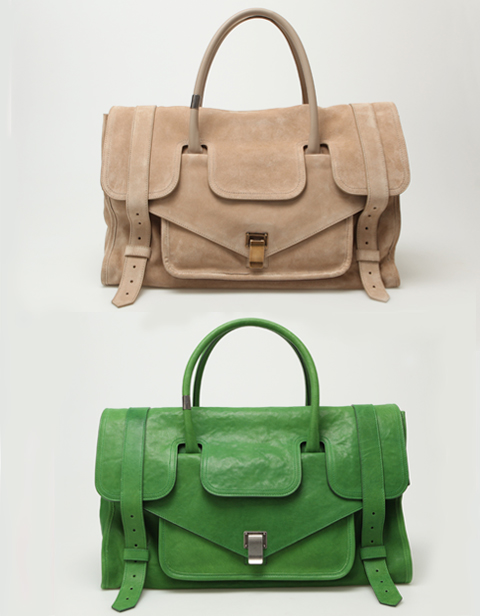 The PS1 – weekender bags in the Proenza Schouler Resort 2011 collection are ridiculous. The PS1 bag was introduced seasons ago, and it was only a matter of time before designers Jack McCollough and Lazaro Hernandez expanded the runaway hit. Resort was a fabulous time to relaunch the weekender bag. Resort is the one season where designers can test new ideas, shapes and colors.
I love the shape of the bag, its also great that the bag will be released in two different sizes, medium and large this December. I appreciate that the bag looks fantastic without too much hardware. It appears to have plenty of roomy pockets. I can't wait until these bags hit the discounters so I can actually afford them!!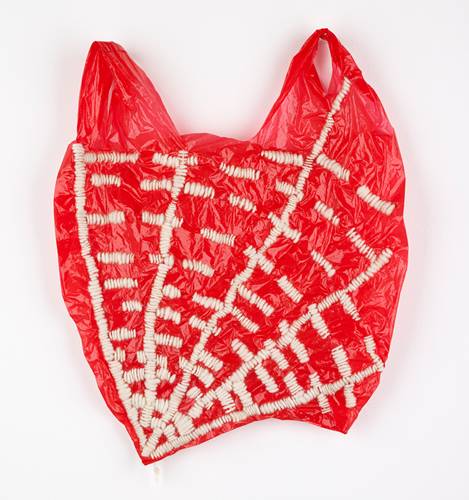 Plastic bags have pretty much been banned in San Francisco since 2007, but we still see these totes everywhere (floating around the streets, at your local corner store, stuffed under your kitchen sink, flapping from trees).   Yes, many plastic bags are reused every day (used to pick up your dogs poo, they line your trash cans, and are used as lunch bags).  But they are still bad for the environment and take months to hundreds of years to decompose.
Well, having that said, Josh Blackwell (a New York based artist) sees the beauty of these everyday mass-produced disposable objects.   He uses plastics bags as canvases to apply embroidery in simple patterns!  Ok…so, he's not really saving the planet, but at least he's aware.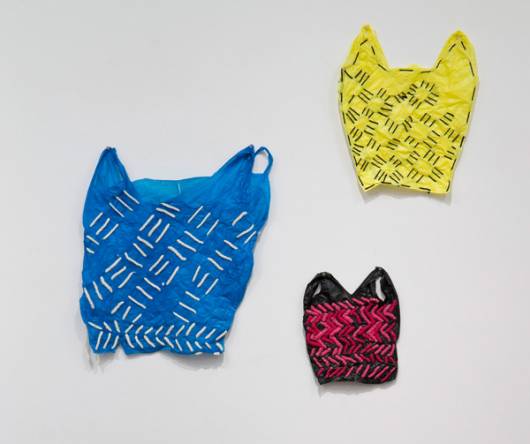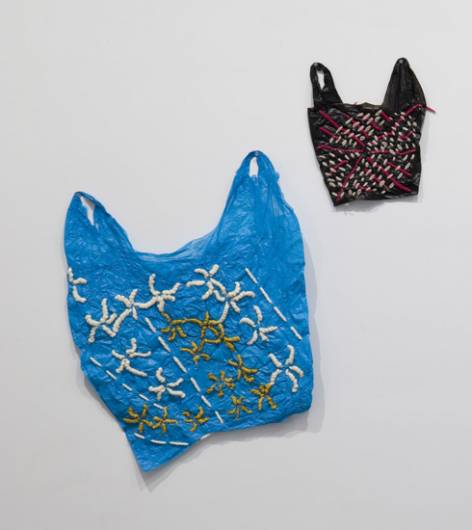 I'm sure most of you aren't going to go home and embroider your plastic bags, but maybe think twice when your local grocer asks, "do you need a bag?"