Posts tagged
Barneys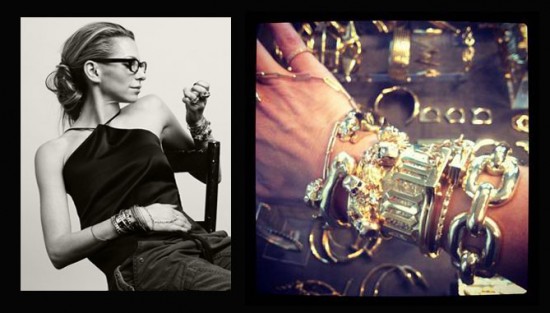 A few years ago Jennifer Fisher was a new mom looking for the perfect piece of jewelry, displaying her son's name, to accessorize her wardrobe with. Unable to easily find exactly what she was looking for, Jennifer took matters into her own hands – which is when Jennifer Fisher Jewelry was born. Today Jennifer designs everything from charms, necklaces, rings and earrings in rose, yellow and white gold to larger, edgier and bold statement cuffs, bracelets and rings in brass. Her jewels have caught the attention of wardrobe stylists and consultants around the globe, and have been featured on Sex and the City the Movie, The L Word, Gossip Girl, and Entourage.
Jennifer says her upbringing in Santa Barbara inspires a lot of her designs. She also cites part of her inspiration from Tom Ford "Anything Tom Ford is a collector's item in my book. He's the s*it and the years he was at Gucci will always be one of my favorite times in fashion". Her line has grown to over 400 charms, four types of colored gold and diamond options. She's even introduced pavé black or white diamond gothic letters, studded cuffs, insect charms, and skull rings.
Jennifer Fisher Jewelry can be purchased at her web shop and at Barneys New York.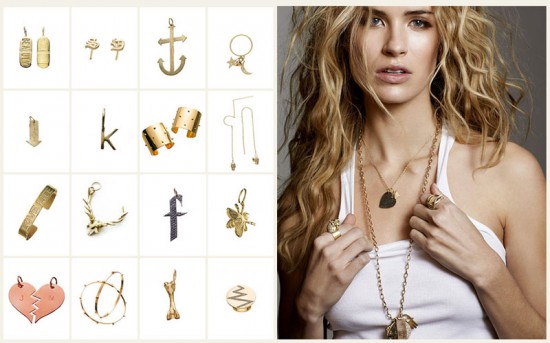 Amanda Brooks, Fashion Director at Barney's New York has created a great piece on Rules Of The Wrist on Barney's New York fashion blog The Window.
Amanda's role as trendspotter for womenswear at Barneys allows her access to both established and emerging designers, members of the press, visual teams, and merchandising teams. It's safe to say she has the down-low on how to pull off all current and up-coming trends.
Here are Ms. Brooks golden rules for cuffs:
When it comes to cuffs, I like to wear one on each wrist. The bold balance of two chunky objects can really anchor the rest of the outfit. By trial and error, I have developed three golden rules for those who dare to wear cuffs:

1. Coco Chanel and Diana Vreeland looked fabulously eccentric mixing cuffs with lots of other jewelry, but I prefer the modern simplicity of cuffs worn on their own.

2. The scale of the cuffs should match the volume of your outfit. If your cuffs are huge, wear a puffy sleeve or a strong shoulder that will stand up to them. If your cuffs are more delicate, go with a streamlined silhouette.

3. Play with price point! While Gaia Repossi makes some of the most exquisitely drool-inducing cuffs you can imagine, Dana Lorenz designs equally chic versions that are great starter pieces for the budget-conscious.
Here are the best cuffs to get you through Summer and into Fall.
House of Harlow Antiqued Arrow Cuff
. $175
Kora Grand Petit Cuff from Shopbop
. $198
The Horizon Cuff by Obey
. $22
Wide Patterned Textured Cuff from ASOS
. $25.86
Low Luv x Erin Wasson Thunderbird Etched Cuff
. $110
Clean Break Cuff from Anthropologie. $158
About Barney's New York Fashion Director Amanda Brooks:
Amanda is a New York-based fashion writer and owner of the fashion consulting firm Amanda Brooks Inc, Ms. Brooks has earned industry credibility through her work experience at top design houses and her celebrated sense of personal style. She began her career working for Patrick Demarchelier and Frederic Fekkai, and went on to become Creative Director of Hogan — and then Creative Director of Tuleh. She currently consults for Diane Von Furstenberg, Tod's, Thakoon, Roger Vivier, American Express, and Revlon.
Ms. Brooks is a contributing editor and writer for Men's Vogue, and has also written style-related articles for Vogue and The New York Times. She has authored a book about finding one's own personal style entitled I Love Your Style (Harper Collins, 2009). She has appeared as a fashion expert on programs such as The Today Show, The CBS Early Show, Inside Edition, and NPR Radio. Last but not least, Amanda has appeared on Vogue's Annual Best Dressed list five times since 1999.
I recently posted Food is Fashion This Holiday Season at Barneys, which goes into the details of Barneys collaboration with the Food Network for their food related holiday campaign titled "Have a Foodie Holiday".
I just got wind from the nice people at NOWNESS.com that photographer Nobuyoshi Araki's photographed actress and model Kiko Mizuhara for the "Have a Foodie Holiday" themed catalog. When I realized that Araki is the photographer responsible for the Lady Gaga images inVouge Hommes Japan, I was certain that the imagery for this crazy "Have a Foodie Holiday" would be stellar.
Image source: NOWNESS.com