Posts tagged
earrings
Summer fashion tends to be diverse. This is a good thing because we do a range of activities in the summer. Jewelry trends range from bohemian to diamond studded, and tribal to vintage this summer. Bold and unexpected color combinations have popped up everywhere. In addition, large gemstones, geodes and crystals are also hitting the streets. Here are our top 4 picks for summer jewelry trends:
CROSS YOUR BODY
That's right, crosses have returned! When it comes to crosses there are no rules. Big, bold, colorful, neutral, and delicate are all acceptable this season. The Ernest Jones Necklace collection has a lineup of beautiful diamond encrusted crosses.


DANGLE-ies
Chandelier earrings are beautiful and feminine. They can make an outfit luxurious in no time. The trend can be found in precious metals and less expensive materials this season. Add are adorned with amazing jewels or resin elements in them.


STACK IT
The 'stacking bracelets' trend is nothing new, we've been doing it for seasons. Arm candy continues into summer 2012. The more materials, finishes, textures, patterns, and colors you can pile on the better. No ensemble is complete without a high end piece for the stack. Shoot for a Pandora Leather Bracelet at John Greed.


FLORAL FANTASY
Petals and buds aren't only featured as clothing prints this season, they also appear on necklaces, bracelets, and rings. Flowers appear on all types of jewelry materials from jewel encrusted petals to resin materials, make sure to adorn your summer outfits with flowers!


Leyna Lightman introduced herself to me a month ago, and as soon as I realized she makes lace jewelry I knew I needed to interview her. I like lace jewelry because it looks delicate and feminine. According to some fashion articles I've read, mainstream editors like lace too!
Style Bust: Why did you start making jewelry?
I started by making jewelry for myself. I have a short haircut (okay, it's a fauxhawk….) and it's perfect for displaying big, dramatic earrings. I fell in love with some local SF jewelry designers and felt inspired to make my own! I was on the lookout for unusual jewelry materials when I discovered some over-the-top appliques in a fabric store and tried them out on earring hooks. Much to my surprise, they took on an elegant and expressive feel as earrings.
Style Bust: Describe your current collection.
I'm loving big, bold colors and unusual shapes. Right now my favorite earrings are called the Buena Vista Earrings and they are oversized flowers with intricate detailing. I dye them a really rich purple that I call ultraviolet. It's amazing- you'd think big earrings would get lost in long hair but these somehow look like feathers and work with long and short hair equally well. I actually got the lace for the Buena Vistas when I was in Turkey this summer. I am doing several pieces from the lace I got while I was shopping in the Grand Bazaar in Istanbul.
Style Bust: What makes your designs unique?
First of all, it is so hard to go big with your earrings without having them get really heavy. Lace is the perfect antidote! Also, using fabric allows me to get really playful with my designs and add new pieces to my repertoire all the time because I am constantly lace-hunting.
Style Bust: What big jewelry trends are you seeing this season?
Bone! I have been seeing more bone lately and it's a great material for one-of-a-kind, interesting pieces. Actually, I think people are more interested in statement jewelry in general. My day job is in a museum where people really dress up for work (by California standards!) and I have been seeing a lot of big jewelry.
Style Bust: How do you suggest shoppers should go about finding good quality jewelry, are their any secrets to shopping you can tell us about?
Ooh….great question. You know, there are lessons beyond food that we can take from the slow food movement. Know your artisan! There are such creative, conscientious local jewelry-makers and it's really rewarding to get to know the people making the pieces you wear. Plus, you can ask all those questions about process, materials etc.
Style Bust: Are there any new directions you'll be heading in for future collections?
I want to use more chain. I love a little dangle….
Style Bust: Where can readers find your jewelry?
www.leynalightman.etsy.com. I am also doing November's Indie Mart (11/7 at Thee Parkside) and several local stores carry my jewelry including Candystore Collective on 16th Street and D-Structure on Haight.
Date and Tell has a great review of Leyna's lace necklace.
Previous seasons' jewelry trends have been dominated by gigantic necklaces, and globes of rings and bracelets, and we've forgotten all about earrings.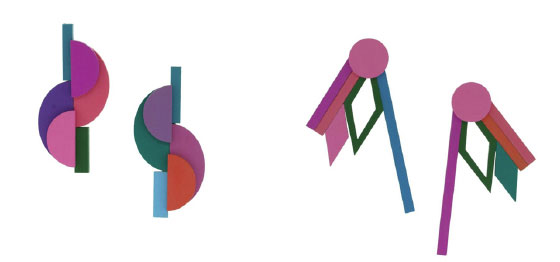 For Fall, I'm all about rediscovering all sorts of earrings. My staples for the season will by your standard little studs in various colors and finishes. I'm beginning to branch out into bigger, and more colorful (even cheap looking) earrings for the season. The earrings featured here are purely for inspiration. They are the designs of stylist and jewelry designer Rachel Gilman. These are by far the brightest earrings I've found outside of Piedmont Boutique since the 80's. I'm not sure I'd go for her rainbow bright pieces. Hell, I'm not even sure they'll be for sale anywhere, but I thought they were pretty and unique enough to share with you!