Posts tagged
Fall 2010
The September issues of fashion magazines are known to be the biggest and the baddest of them all. When I see one of those thick magazines, I know I must have them! This year, instead of looking through them, cover to cover just once, then adding them to my never-ending magazine collection, I thought I'd tear out my favorite looks for Fall 2010 and narrow them down into "wearable" Fall trends (unfortunately, I do not have a scanner, so I recreated the looks)!
Here are five Fall outfits (inspired by my favorite trends) that I want to be wearing now!
Bomber jacket and Skinny jeans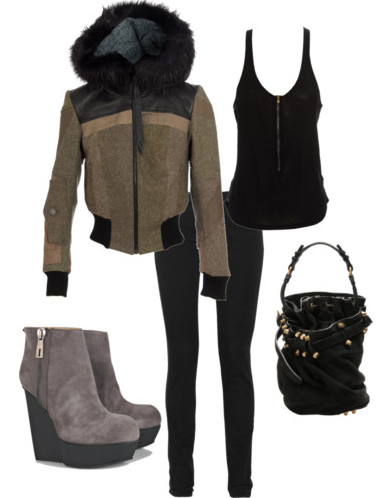 Yes, a rather simple outfit. This look is practical to wear everyday. The all black with a gray suede platform wedge heel is perfect for an evening out with friends. In my opinion, the military inspired hooded bomber is just right for Fall!
Slouchy button down and Mini skirt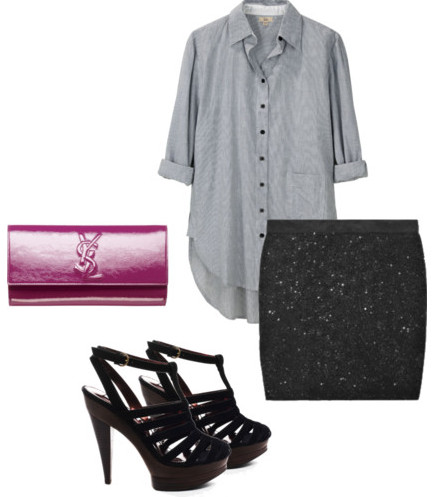 This can be a tricky look to pull off because it can look sloppy if the proportions aren't right, but if done correctly, you'll look effortlessly chic! A comfortable boyfriend button down with a body-con embellished Givenchy-esque mini skirt says that you're laid back, but have great style.
Silk blouse and Wide leg trousers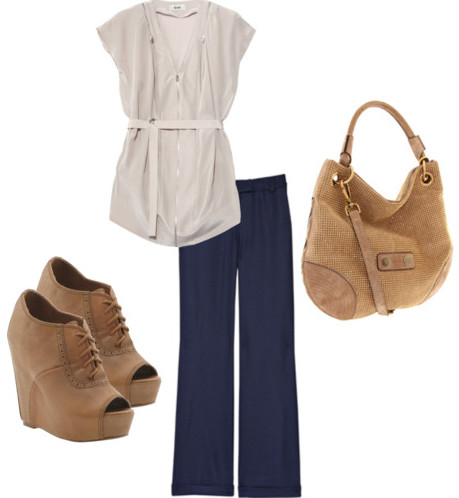 This is probably my favorite look. I can see pretty much anyone wearing this and looking hip to the current trends. Trouser pants can look androgynous, but paired with a silk blouse you'll achieve a cool 70's look!  Add a blazer, and you're ready for a chilly evening.
Sweater and Shorts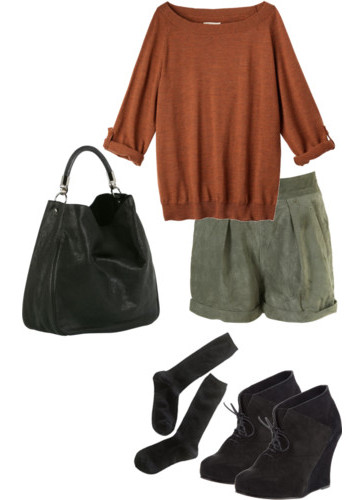 The Sweater and shorts combo is another look that I really love, especially when paired with wedge boots and socks. I'm all about shorts for Fall, especially leather or suede shorts – but be careful with leather or suede shorts, they can be a bit harsh, even overdone, for an everyday look. Having that said…these are great pleated suede shorts that can either be dressed up or paired with a cozy over-sized sweater, creating a very on trend Fall 2010 look.
V-Neck shirt and Pencil skirt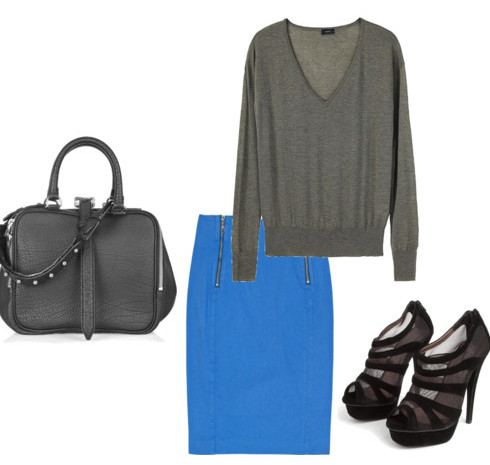 I think everyone can agree that pencil skirts are very sexy. To tone down the sex appeal, wear a tight-fitting pencil skirt with a slim fitting v-neck top. Tuck your top into the skirt just slightly for a the messy, "I didn't really try to tuck my shirt in" look. This type of shirt tuck will hug your curves while keeping this outfit appropriate for the office.