Posts tagged
recycled
I think designer Jeremy Scott must have come across photos of my Halloween costume from 2009 while he was dreaming up his Spring 2011 collection. As you can see by the images below, I dressed as a hobo of sorts last year (you can tell right?). My outfit was constructed of plastic bags and paper (plus sandals and tights), and I drank my vodka straight-up in a pickle jar.
If this clever costume was not Scott's inspiration behind his 'basura' themed Spring 2011 collection, I don't know what was, because clearly my costume provoked serious inspiration. Haha.
I do think that the collection is very relevant to the global issues we face today, however, I don't know that creating this 'statement' collection will help him further his credibility in the cut-throat, serious industry of fashion. The pieces themselves varied greatly on a scale of difficulty. He includes everything from your standard black trash bag to a mini dress made entirely of soda pop cans (this dress is hot). I have to say the styling was spot on and really made the presentation worth while for me.
How do you feel about the presentation?
I'm excited to learn that there is a crafty and useful purpose for all those antiquated/outdated book covers (I'm a total sucker for recycled products). Librarian Kathy Kelly from Erie Pennsylvania has created a line of bags and purses using re-purposed book covers from used book covers. Her line is called Bookbags.  The bags are pricey, I guess until she has serious competition she can afford to charge customers and arm and a leg for the bags…I'm SUPER excited for her to get some competition.  Call me cheap, but I'm not will to pay $135 plus for a bag like this…although they are damn cute!
For a complete assortment, check out Kathy Kelly's inventory here.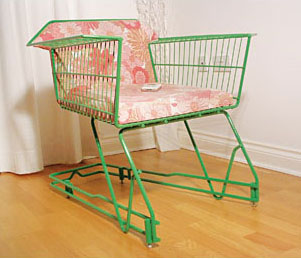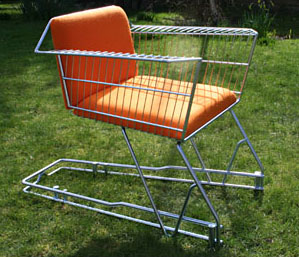 These Annie the shopping trolley Chair by Max McMurdo for Reestore.
McMurdo takes carts that were otherwise landfill bound due to missing wheels or bent legs, and works his magic and "poof" they become statement chairs you can purchase. Reestore attempts to avoid traditional eco materials in favor of contemporary finishes, fabrics, and, above all, style.