Posts tagged
Spring 2011
With the weather finally warming up we're all eager to hit the beach. Whether you're soaking up the sun in Manhattan Beach or Greece, the most important decision of the swimming season is which swimwear pieces you'll be wearing.
This year Stylebust.com is taking a look at our favorite 3 'in' styles in swimwear, helping you choose the piece of swimwear that is perfectly inline with 2011's fashion trends.
Option 1: Vintage Style Swimwear
Vintage inspired swimwear has a huge presence in 2011. The look doesn't have to consist of the strawberry cheesecake, or mod striped clichés. Nor does a vintage bikini or swimsuit have to be like a pin-up girl costume (thank god). This year many swimwear designers are infusing vintage details into modern pieces. They are incorporating some high-waist bikini bottoms, as well as vintage prints on one piece suits and more modern bikini silhouettes.
Vintage Style Swimwear from Anthropologie.
Option 2: The Metal Details
There have been metals accents and embellishments on swimwear for many seasons. The look has gone to the extreme this time around. We think this look is sexy and eye-catching. It's just as appropriate for the school teacher as it is the Harley-Davidson rider. We just caution that people who buy heavily accessorized swimwear don't overdo it with the jewelry. Since this trend is not entirely new, the metal detail swimsuit will be a safe bet for 2012 and beyond.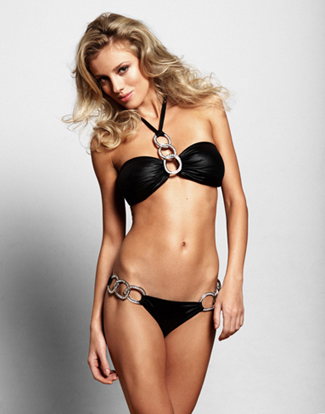 April In Paris Suit by Ladies Beach Bunny Swimwear.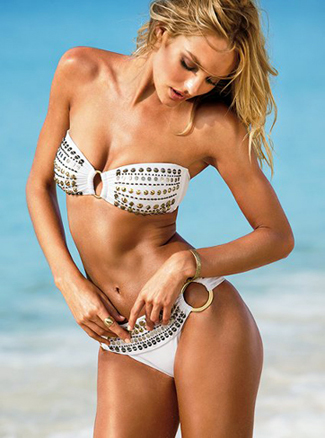 Embellished Suit by Victoria's Secret.
Option 3: Crochet Swimwear
Influenced by the return of the Spring 2011 crochet trend, crochet swimsuits and crochet bikinis are not just on-trend this season, they're the must-have swimwear style for 2011. Our favorite feature of crochet swimwear is that it borders neatly on day wear. Pair a crochet one piece with denim cut-offs for a perfect festival fashion look; or with wide-leg pants or a midi-skirt for those resort afternoons.
Crochet Swimwear by Lisa Maree.