Posts tagged
fragrance
If you're like me, you always forget one or two essential beauty or personal care items whenever you go out of town. It's something I've gotten used to; and so has my husband, who frequently has to drive me to a drug store to pick up whatever I've forgotten. As I'm getting geared up for a few weekend trips in April I've decided to share my must have items for weekend getaways.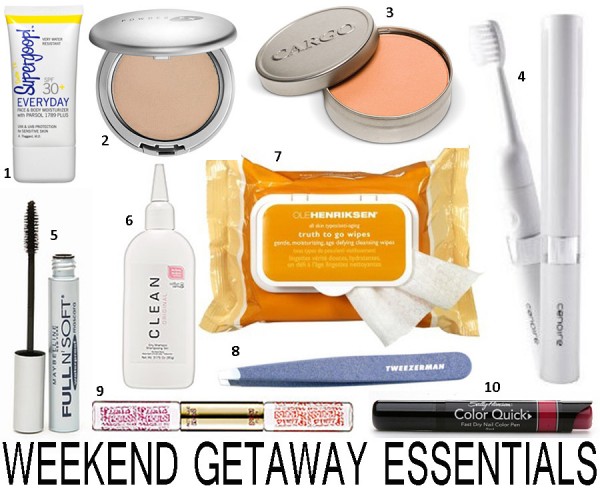 [ 1| 2 | 3 | 4 | 5 | 6 | 7 | 8 | 9 | 10 ]
1. Supergoop! SPF 30+ Everyday Lotion ($22) is moisturizing, paraben-free, and water and sweat resistant. The 3oz tube is enough to last you over a month, and will keep your skin soft, moisturized, hydrated, and protected from harmful UV rays.
2. No matter where you're travelling, powder is essential. I always pack my Powder FX Mineral Powder Foundation by Cover FX ($35).  It's enriched with oil absorbing qualities which does the trick in all sorts of climates.
3. Cargo Bronzer ($29) comes in a variety of natural looking colors with slight iridescence. While travelling I use this bronzer for my cheeks and eyes, and avoid packing eye shadows altogether.
4. Cenoire Eluo Sonic Toothbrush ($29) is a great travel electric toothbrush at an affordable price. I take this toothbrush with me everywhere in case I'm in need of a quick clean.
5. Maybelline New York Full 'N Soft Waterproof Mascara ($6) is a perfect lash enhancing essential. Whether you're in humid weather, out in the cold, or playing in water all day, your mascara should stay put!
6. Dry shampoo is a part of my regular routine. I use it every other day (yes, I naturally have really greasy hair). I love to take Clean Dry Shampoo ($18) with me on vacations because I never know how many days will pass without hair washing. The best thing about Clean brand is it's perfectly sized for airplanes at 2.9 oz.
7. For a quick, yet thorough face cleanse I go for Ole Henriksen Truth To Go Cleansing Wipes (pack of 30 wipes for $15).  Cleansing wipes are the easiest way to remove dirt, grime and makeup on the go.
8. Don't forget your tweezers, you never know when an unwanted hair will appear. I bring my Tweezerman Slant Tweezer ($22) on every trip. I don't actually use the tweezers that often while on vacation, but the few times I have needed to tweeze, I was relieved my tweezer was packed.
9. Coach Poppy & Poppy Flower Rollerball Duo ($22) is perfect for travelling, especially if you like to alternate scents based on your mood. The duo roller offer two fun fragrances at an affordable price point.
10. Sally Hansen Color Quick Nail Pen ($8). Sally Hansen color pens come in a handful of basic colors, work well, and are affordable. When applied, the color dries quickly and there's no mess! What more could you ask for. If you're looking to splurge on a high-end nail pen, opt for Yves Saint Laurent's Nail Lacquer Pen Brush ($26).